Iran
President Rouhani suprises metro commuters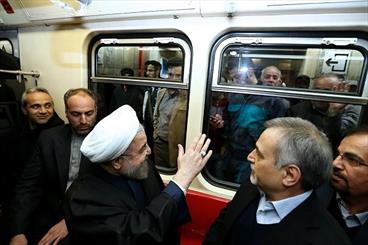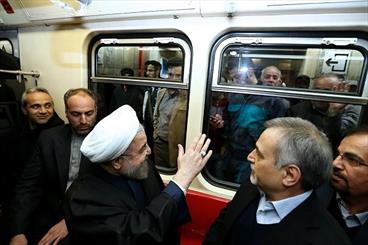 President Rouhani, while heading to the environment council meeting, told reporters that today's move to use public transportations by government officials was a symbolic act on the occasion of Clean Air Day to remind people of the necessity of taking measures to reduce pollution.
Head of Environmental Protection Organization Masoumeh Ebtekar was accompanying the President on this unannounced visit to Tehran's subway.
Ebtekar delivered a speech on Sunday in 'Blue Skies Again' seminar held at the Environmental Protection Organization on the occasion of Clean Air Day and said, "so far, 12 national and several provincial sessions on reducing air pollution have taken place; eliminating the use of petrochemical oil is one of the main steps the government has taken to reduce air pollution."
Ebtekar noted that this measure was taken with help from the Ministry of Petroleum, adding that presently petroleum with a Euro 4 standard is being distributed in many major cities of Iran.
"The volume of sulfur in diesel fuel has dropped from 7,000 ppb to 150 ppb; this has a tremendous impact on reducing air pollution," she had said.
Head of Atomic Energy Organization of Iran (AEOI) Ali Akbar Salehi was also among the officials who took part in today's symbolic move of taking the subway to work.
He told reporters that one of the biggest sources of pollutions was the power plants; "each 1,000Mw power plant produces 7 million air pollutants. At the peak of our plant activities, we have an annual 45,000Mw power production which amounts to 300 million tons of pollutants. With a nuclear power plant, none of these pollutants would have existed."
Salehi made references to the upcoming construction of 2 nuclear plants in Iran and said, "the initial steps have been taken and 8 years from now the second nuclear plant after Bushehr will enter the operational phase; this will reduce the volume of air pollutants down by 21 million tons."