North America
President Rouhani: US Should Compensate for Losses Inflicted on Iran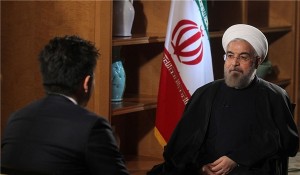 Iranian President Hassan Rouhani said the nation has sustained much loss and damage from the US hostile policies, which need to be compensated by Washington.
Speaking in an interview with China's CCTV television network on Wednesday night, President Rouhani said the Iranian people have suffered a lot as a result of the hostile policies of the US and expect White House politicians to abandon their past behavior of ignoring Iranians' interests.
The Iranian chief executive said the Islamic Republic pursues its rights in the international arena and does not seek revenge for Washington's hostile moves against Iran.
"The US should take steps in the direction of respecting the rights of the Iranian nation and at the same time undertake to compensate for the losses inflicted on Iran," Rouhani said.
He underlined that the Iranian people have never had and will never have any problem with the American nation.
"If the US, in practice, abandons its hostile policy toward the Iranian nation and compensates for its past (antagonism), a new situation can be envisaged for the future of both nations," Rouhani said.
Only if the rights of Iranians are respected, one can hope for a future which would hope the possibility for "dialog between the representatives of both nations", he said.
The United States and Iran broke diplomatic relations in April 1980, after Iranian students seized the United States' espionage center at its embassy in Tehran. The two countries have had tense relations ever since.
Yet, relations between the two arch foes specially deteriorated following Iran's progress in the field of civilian nuclear technology. Iran says its nuclear program is a peaceful drive to produce electricity so that the world's fourth-largest crude exporter can sell more of its oil and gas abroad. The US and its western allies allege that Iran is pursuing a nuclear weapons program while they have never presented corroborative evidence to substantiate their allegations against the Islamic Republic.