Iran
President Rouhani: Western Powers Seeking Excuse, Iran May not Give up Rights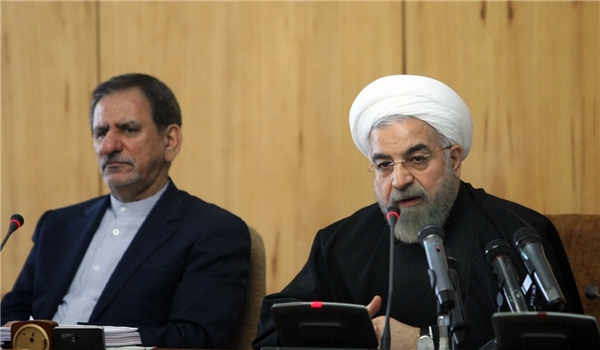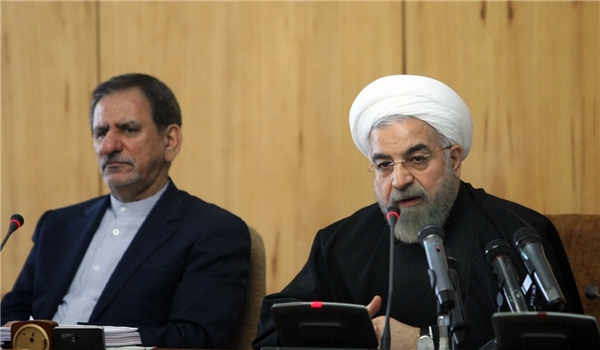 The western powers are seeking excuses to prevent Iran from further progress in different fields, President Hassan Rouhani said, stressing that the country will not withdraw from its rights.
"If the Group 5+1 (the US, Russia, China, Britain and France plus Germany) seeks excuse to prevent Iran's development, (they should know that) it is not possible for them to do so as our nation will not give up its rights and the path of development. We are entitled to use peaceful nuclear technology within the framework of the International Atomic Energy Agency (IAEA)'s treaties and safeguard inspections," Rouhani said, addressing a cabinet meeting in Tehran on Wednesday.
He stressed that Iran is not only committed to all the international laws, but also determined to implement Supreme Leader of the Islamic Revolution Ayatollah Seyed Ali Khamenei's fatwa against the production and use of the nuclear weapons, and reiterated the unique significance of the Leader's fatwa.
The Iranian president called on the G5+1 members not to bring their internal problems to the negotiating table with Iran, as "This is neither legal nor rational, and all the G5+1 members should pay attention to the long-term interests of their countries and the region".
He said that the possible agreement between Iran and the world powers will benefit Iran, all states, economy, development, science and the world, and added, "The agreement can make the international treaties stronger and persuade countries to rely on the international treaties as it is wrong for a country which is committed to all international treaties (to be forced) to answer the suspicions of certain countries."
President Rouhani underscored Iran's readiness to continue its nuclear progress even with more transparency within the framework of the international rules and regulations, and expressed the hope that a win-win deal would be the result of the talks between Tehran and the world powers.
"Iran has made all its efforts to this end and has made the necessary modifications in its demands and we hope that all the G5+1 member states, specially the US, which is sometimes after excessive demands, will come to gather an understanding of the (present) conditions," he underlined.
His remarks came as Iran and the G5+1 had their 9th round of talks in the Omani capital Tuesday morning.
At the meeting, Iranian deputy foreign ministers Seyed Abbas Araqchi and Majid Takht Ravanchi exchanged views with their counterparts from the G5+1 over the remaining bones of contention.
Prior to the seven-nation talks, Iranian Foreign Minister Mohammad Javad Zarif had a trilateral meeting with his US counterpart John Kerry and EU Foreign Policy Chief Catherine Ashton on Sunday and Monday.