Iran
Middle East
President urges collective effort to improve Caspian security, stability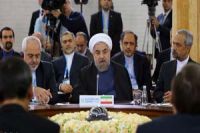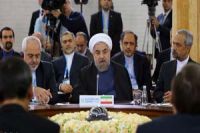 President Hassan Rouhani has urged the Caspian Sea littoral states to strengthen collective cooperation in order to improve regional security and stability.
President Rouhani in an address to the 4th summit of the Caspian Sea littoral states in the Russian city of Astrakhan on Monday said: "It is appropriate that in addition to cooperation among the littoral states of this [Caspian] Sea to establish collective security, we do not allow the sea and its coasts, which have special significance for its littoral states, to turn into a haven for extremism, terrorism, narcotics and organized crimes."
He proposed that all the Caspian Sea littoral states unanimously call it the "Sea of Peace and Development" and prepare the ground for achieving this goal according to a specific timetable through intense consultation.
"The only way to achieve peace, stability and sustainable development in the region is to pay attention to the long-term interests of all the Caspian Sea littoral states and observe the principle of consensus in all decisions which are taken," President Rouhani stated.
The President also called on the Caspian Sea littoral states to take part in common ventures in different fields in the service of their shared interests.
He urged the littoral states to take necessary action to protect the unique natural resources of the Caspian Sea, saying it is necessary to observe ecological criteria in all regional and national plans.