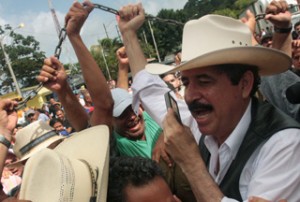 The Honduran ousted president can seek asylum outside Central America after the recent election in the country, the interim government says.
Foreign Ministry spokesman Milton Mateo said that Honduras would grant Manuel Zelaya safe passage to any country that offers him asylum outside Central America.
The decision came from the very highest government level, Mateo said on Saturday.
The Honduran president was forced out of the country in a June military coup and returned into the Brazilian Embassy in the capital city of Tegucigalpa about three months later.
Mediation talks between Zelaya and the interim government failed because the ousted president insisted on his reinstatement. He also refused to accept the outcome of the November 29 vote, describing the process as 'illegitimate'.
The winner Porfirio Lobo, however, is set to take office after Zelaya's term expires in January.
Earlier, Zelaya announced that he would remain at the Brazilian embassy until January 27, 2010 at the latest.
"However, I would like to leave as soon as possible, obviously with the support of the Brazilian government," he said.
The election has been rejected by most of the Latin American countries. The US however recognized the vote result.