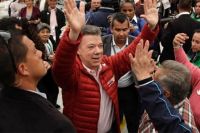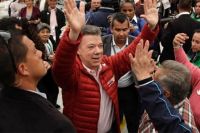 Colombians began voting for a president on Sunday in the tightest election in two decades that may determine whether the country continues peace talks with leftist guerrillas or steps up its battlefield offensive to end a 50-year war.
"The vote has largely become a plebiscite on President Juan Manuel Santos' strategy of negotiating disarmament of Marxist FARC rebels to end bloodshed that has killed some 200,000," Reuters reported.
Right-winger Oscar Ivan Zuluaga dismissed the talks as pandering to terrorists and suggested he would scrap them in favor of US-backed military campaigns similar to those led by his mentor, former President Alvaro Uribe.
Santos and Zuluaga are polling neck-and-neck following a race marred by accusations of electronic espionage and drug-linked campaign financing. Neither is seen winning enough votes to avoid a June 15 run-off.
"Santos appeals to Colombians who hope the guerrillas will finally lay down arms after seeing top leaders killed and their numbers halved to about 8,000 fighters," Reuters noted.