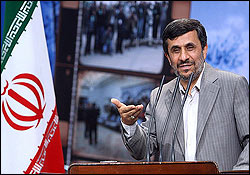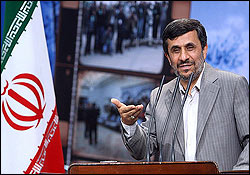 Iranian President Mahmoud Ahmadinejad has said that Iran and Egypt should make every effort to be anti-Zionist countries.
Ahmadinejad made the remarks on Wednesday during a meeting with a 45-member Egyptian delegation that attended the Fifth International Imam Khomeini and Foreign Policy Conference, which was held at the Iranian Foreign Ministry's Institute for Political and International Studies (IPIS) in Tehran on the same day.
"We should take measures so that Iran and Egypt will be two progressive, esteemed, powerful, anti-hegemonistic, and anti-Zionist countries," Ahmadinejad stated.
Iran and Egypt have many affinities, Ahmadinejad said, adding, "Both nations believe in God and are seeking justice, freedom, and dignity, and are opposed to any kind of humiliation."
"Iran and Egypt have another common point and that is (having) a common enemy," he added.
The United States and its allies, particularly the Zionist regime, are not only the enemies of Tehran and Cairo but are also the enemies of all the countries in the region, Ahmadinejad said.
"However, the enemies do not want a relationship to be established between Iran and Egypt because their linkage will create a power that would compel all Zionists to leave the region without any need for war," he stated.
The Iranian president also said, "This regime is a cancerous tumor that will metastasize if even a small part of it remains on Palestinian soil."
Elsewhere in his remarks, Ahmadinejad said, "I do not believe that the prosperity of the United States and certain other European countries is due to the efforts of the people of these countries. Although the people of these countries are making endeavors, the gap (between these states and less developed countries) is due to their exploitation of (the wealth of) other nations."
The Egyptian delegation also invited Ahmadinejad to pay a visit to Egypt, and he replied, "As soon as I receive an invitation from Egyptian officials, I will make a trip to Egypt."
The members of the Egyptian delegation also met with Iranian Foreign Minister Ali Akbar Salehi on Wednesday.