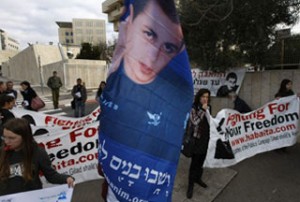 Mediated prisoner swap talks between Israel and Gaza resistance officials have been postponed until after Eid Al-Adha, Israel's Channel 2 claimed Wednesday night.
According to the TV report, the postponement came after because of Gaza's insistence on the release of Hamas leaders like Ibrahim Hamed, commander of the Hamas military wing in the West Bank and Abdullah Barghouti, who was sentenced to 67 life terms in Israeli jail.
Hamas official Khalil Al-Hayya, however, told the news channel that Israeli stubbornness caused the failure of the latest round of talks.
Earlier in the week Gaza leaders stressed their earlier position, that Israel can take all the time it wants to decide on the release of the 450 named Palestinian prisoners and 550 other detainees. Officials said the names on the list delivered to Israel were not going to change.
Hamas leader Usama Hamdan in Damascus confirmed that there was not yet a swap deal with Israel, but affirmed the party's determination to see through a deal.