Egypt
Pro-Morsi students, police clash in Cairo campuses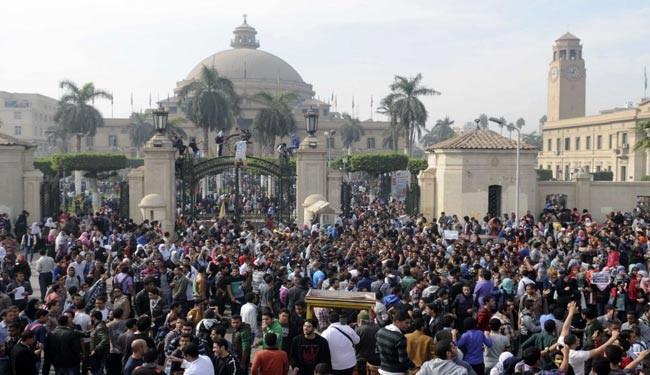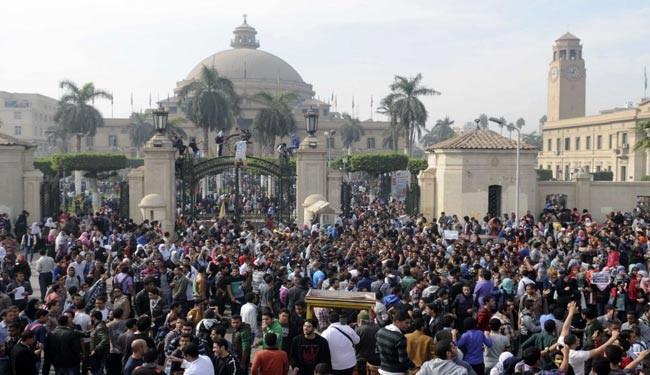 Clashes have erupted in Egypt at two major universities in the capital Cairo between protesting students and police forces.
Student supporters of military-ousted Egyptian president Mohamed Morsi clashed with security officers on Friday at Egypt's foremost Islamic university, Al-Azhar as police forces fired teargas canisters to disperse students that were throwing rocks and Molotov cocktails.
The confrontations broke out after students started a protest rally from inside the mosque of the university's dorm compound, Egypt-based Al-Ahram's website reported.
A similar protest and face off with police forces also unfolded at Cairo University, as pro-Morsi students at the university's dorms attempted to exit their compound to wage a protest rally but were met by teargas rounds fired by police.
The students then responded by throwing rocks at police forces.
Many adjacent streets were cordoned off by security authorities.
Several small pro-Morsi protests also took place on Friday in Haram, Mohandessin and Omrania districts in Giza but were confined to side-streets due to heavy police presence in major roadways.
Police also dispersed pro-Morsi protesters in Ain Shams district in east Cairo.
According to the report, clashes have become common on university campus since the ouster of Morsi in July 2013.
No official figure on the number of injuries or arrests has been released yet.
Groups supporting Morsi called for anti-government protests ahead of presidential elections on May 26-27, urging their supporters to disrupt the voting process.
Two fierce opponents of the country's Muslim Brotherhood are running in the elections; former army chief Abdel-Fattah al-Sisi who led the military coup against Morsi, and leftist politician Hamdeen Sabahi who was one of Morsi's most vocal opponents before his overthrow.