Europe
Pro-refugee protesters slam rightist event in Austria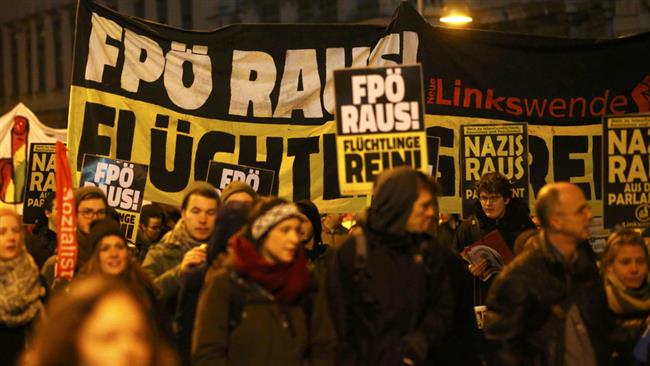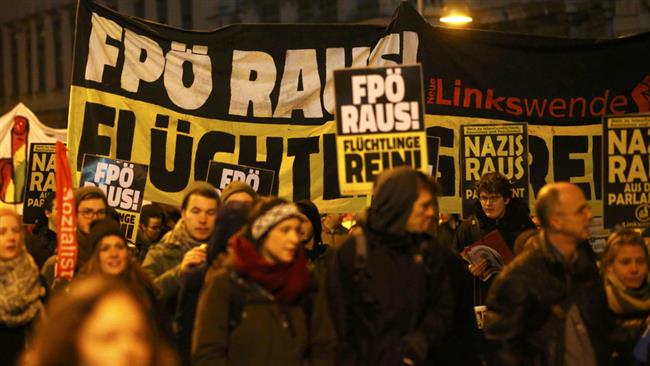 Thousands of Austrians have staged a pro-refugee demonstration in Vienna to protest an annual event attended by right-wing Freedom Party (FPO) activists who oppose immigrants.
Several protest rallies were scheduled to be held against the annual Academics' Ball event that was held on Friday night at the Hofburg Palace in central Vienna.
The largest one, organized by the 'Offensive against the Right movement,' drew as many as 5,000 protesters, according to police estimates. The organizers, however, put the number of participants at 8,000.
Law enforcement forces, meanwhile, imposed a state of emergency and completely blocked a large area around the Hofburg Palace, declaring it "a high security zone," local media reported.
The demonstrators converged at Vienna University before marching to the Museumsplatz (Museum Square) across from the Hofburg Palace.
The crowds chanted pro-refugee slogan and carried banners that read "Refugees welcome!" "FPO, get out!" and "Refugees should stay!"
Police authorities had deployed nearly 3,000 officers to ensure security during the events and prevent potential clashes between the ball guests and protesters.
Reports say police helicopters were also dispatched to also monitor the situation.
The protest rallies, however, remained largely peaceful.
The Academics' Ball (Akademikerball) has traditionally drawn major opposition from Vienna's left-wing and socialist residents due to its apparent connections with Europe's far-right parties.
During last year's event, similar protest rallies led to violent clashes between activists and police. Nearly 50 arrests were made at the time.