Europe
Pro-Russian force seize airport in Crimea: Ukraine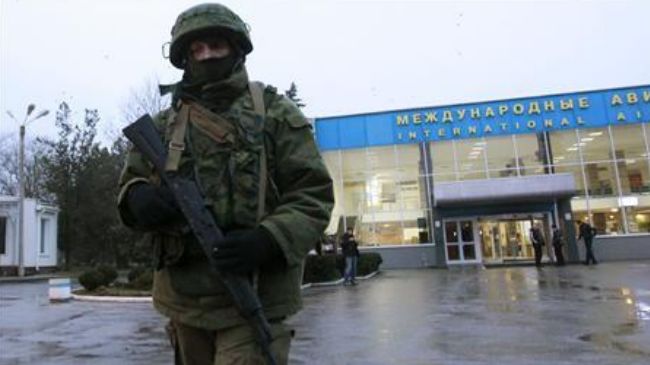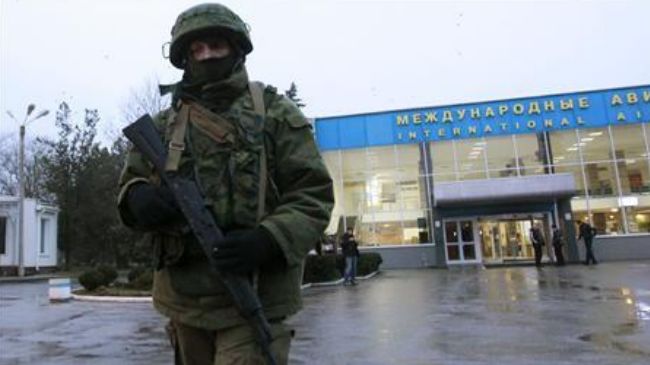 Ukrainian Defense Ministry says that a pro-Russian force has seized a military airport in the Autonomous Republic of Crimea.
A Ukrainian Defense Ministry spokesman in Crimea said on Sunday that the armed group blocked off the entrance to the airport near the village of Saki and established machine-gun posts along the landing strip, Reuters reported.
Russian military forces have taken control of strategic points in Crimea, including Belbek military airport near the city of Sevastopol and the main civilian airport in Simferopol, the Autonomous Republic's administrative center.
Many people in Crimea have reportedly called for Russia's help after the overthrow of Ukraine's former president, Viktor Yanukovych.
Russia sent its troops to Crimea after the Russian parliament gave the green light to President Vladimir Putin to use armed forces "to protect Russia's interests in that region."
Last week, the Russian Foreign Ministry said that Moscow would have to respond in such situations that are provoked by "Washington's rash and irresponsible actions."
The US and its European allies have repeatedly threatened Russia with sanctions over its actions in Ukraine, particularly its military build-up in the Crimean territory.
Crimean lawmakers voted on Thursday in favor of joining the neighboring Russia. Local Crimean administration is expected to hold a referendum on March 16 on the region's separation from Ukraine.
However, the interim government in Kiev denounced the move, describing the planned vote as "unconstitutional" and "illegitimate".
Political crisis erupted in Ukraine in November 2013 after Yanukovych, refrained from signing the Association Agreement with the European Union in favor of closer ties with Russia.
On February 23, the Ukrainian parliament ousted Yanukovych and named Oleksandr Turchynov, the legislature's newly-elected speaker, as interim president.