Palestine
Prominent Lebanese Mufti: Palestine, major issue of Muslim world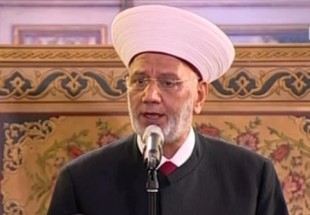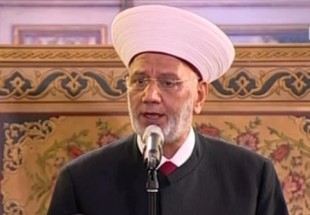 Lebanese Mufti stressed importance Muslim unity and avoiding controversial sermons and highlighted Palestine as the major issue of the Muslim world.
Publish date : Wednesday 12 November 2014 15:20Code: 173780
Palestine, major issue of Muslim world
Sheikh Abdul Latif Daryan, renowned Lebanese Mufti met with Sheikh Abdul Amir Qabalan, Head of the Higher Shia Islamic Council and Sheikh Naeem Hassan, Druze grand Sheikh, to discuss his views on the latest regional and domestic issues, reported Taqrib News Agency (TNA).
He referred to the current issues in Palestine and stressed importance of boosting unity in the Muslim world.
Sheikh Daryan in this meeting highlighted necessity of Islamic solidarity in line with boosting national unity and called Arab and Muslim nations to support Palestinians and Al Aqsa Mosque against the Zionist regime.
Sheikh Hassan condemned recent Zionist invasion of Al Aqsa Mosque and underlined importance of solidarity and convergence among Lebanese nation and said," Islamic unity is a necessity for development in all fields."
Sheikh Daryan also met with Sheikh Abdul Amir Qabalan, Head of the Higher Shia Islamic Council and noted," There is no opportunity for those who struggle to wage sectarian intrigues in Lebanon; therefore, any effort in this line is a vain move."
He added," We have agreed that our sermons and Islamic debates to be moderate and away from any religious disagreement."
Lebanese Mufti called the issue of Palestine as the major focus of the Muslim and Arab nations and noted the issue of Palestine as the common outcry of both Shia and Sunni communities."
Sheikh Qabalan for his turn stressed the importance of Islamic unity and said, "All of us, from Christians to Muslims have to unite against the present threats and realization of the objectives of our nation."