Europe
Protest against electricity price hikes turns violent in Armenia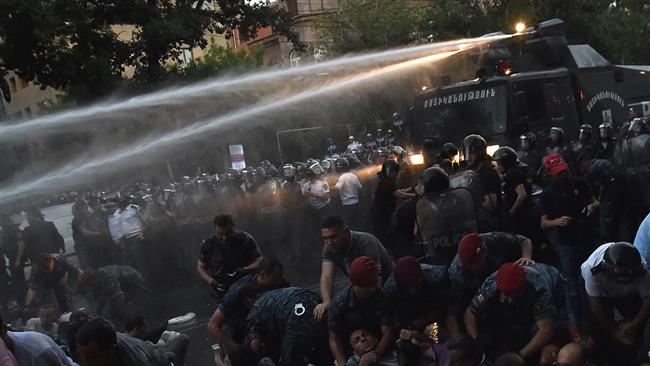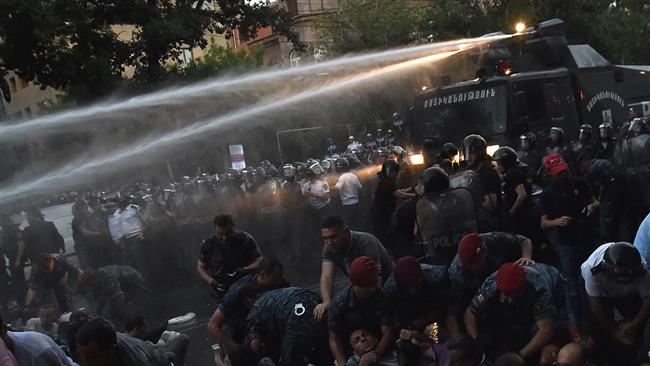 Armenian police have attacked a group of demonstrators protesting in the capital, Yerevan, to show their dissatisfaction with a recent government decision to raise public electricity prices.
The Tuesday protest rally turned violent after riot police used water cannon to disperse several hundred demonstrators in Yerevan. Security forces also beat some protesters with rubber batons.
A number of demonstrators were wounded in the skirmishes while police forces took dozens of others into custody.
Plainclothes police also beat journalists, destroying or confiscating their equipment.
The demonstration first began on Monday, when 4,000 protesters marched on the presidential palace to protest against a government decision to increase power tariffs for households by 16 percent from August 1.
They said President Serzh Sarkisian's government has failed to uproot poverty in the landlocked Caucasus country.
Several hundred people held a sit-in protest overnight and blocked traffic.
The decision to increase the power prices came following a request by the electricity distribution company for Armenia's electricity network, a subsidiary of the Russian firm Inter RAO.