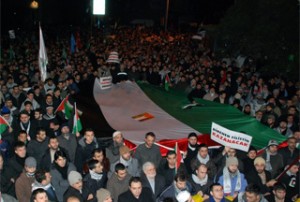 A crowd of French Muslim thronged in front of the Egyptian Embassy in Paris Wednesday, protesting the country's policies of collaboration with Israel against the Palestinians.
The protestors denounced Egyptian leader Hosni Mubarak's "support for the Israeli regime," chanting slogans in support of the Lebanese Hezbollah and Hamas resistance movement, IRIB News reported.
The Paris demonstration comes in the wake of clashes between Egyptian police and international peace activists over Cairo's refusal to allow 59 humanitarian assistance trucks of the Viva Palestina convoy to enter Gaza.
Almost 55 of the Gaza Freedom Marchers were injured in the scuffle.
Some 1,200 peace activists, representing 42 different nationalities, were attacked in Cairo. The protestors had organized a non-violent demonstration to protest a ban on their travel to Gaza.
Cairo said it would only allow 157 members of the Viva Palestina convoy, led by British politician George Galloway, to drive into Gaza. Later, however, the Egyptian government agreed to allow 400 of the group's volunteers entry to the Gaza Strip.
Gaza has been under a tight Israeli blockade since June 2007 when the democratically elected Hamas took control of the area. Egypt has come under fire from Arab and Muslim groups for cooperating with Israel on the issue.