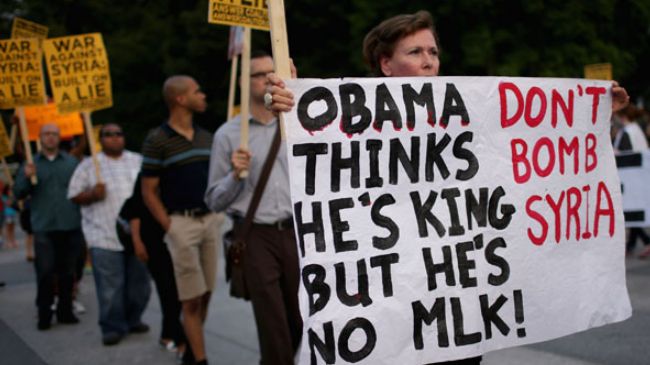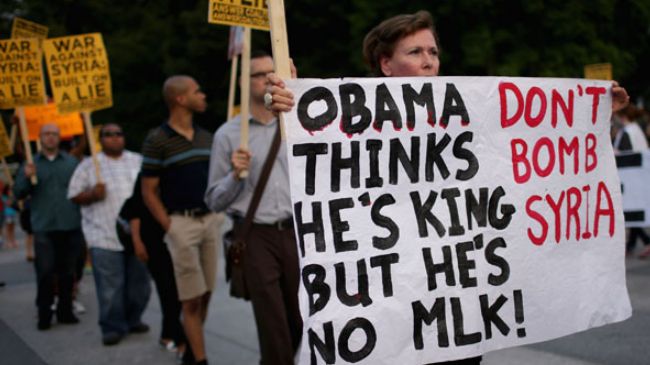 A group of peace activists gathered in the US city of New York to denounce President Barack Obama's plan to launch airstrikes in Syria in the name of fighting ISIL terrorism.
The anti-war protest, held on Friday in Times Square, was organized by the International Action Center, Press TV's correspondent in New York reports.
Syrian-Americans, Iraqi-Americans, peace activists, and trade unionists participated in the rally.
The plan to attack ISIL targets in Syria is the "biggest mistake" and "another failure for the Obama administration," Khaloun Makhoul, a Syrian-American, told Press TV.
"How are you going to fight terrorists with people who support the terrorists?" he asked, referring to US allies such as Saudi Arabia, Qatar, and Turkey who have been supporting militants to fight the Syrian government.
President Obama on Wednesday authorized airstrikes against ISIL bases in Syria. The US military has already conducted more than150 airstrikes against ISIL targets in neighboring Iraq.
The protesters said the money spent on US militarism should instead be used to fund jobs, housing, education and other societal needs in the United States.
Law student Amid Gupta says that US intervention has not improved the lives of Iraqis, and has only increased the level of suffering in the country. "They've destroyed at least a century worth of development in Iraq that existed prior, they've institutionalized sectarian tensions that didn't even really exist," he said.
"They've displaced 4 million people, they've killed possibly over a million people, in addition to the sanctions that were on Iraq, they've destabilized the entire country," Gupta added.
The protesters said that they represent a large section of the American society, which is opposed to further military intervention around the world.