North America
Protesters circle White House grounds as curfews go into effect nationwide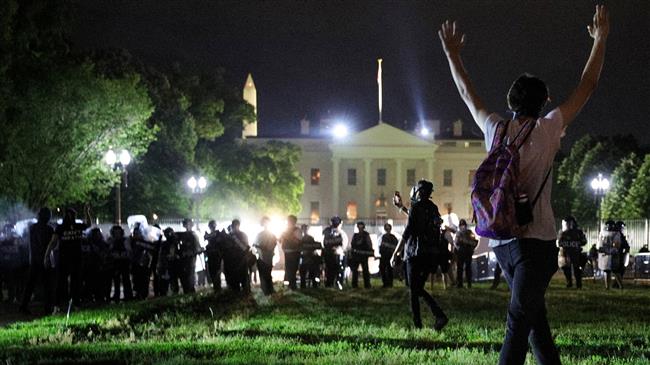 Hundreds of outraged US protesters have clashed with the Secret Service and police outside the White House for the second successive day over the police brutal killing of an African American earlier this week.
The unrest over George Floyd's death came to President Donald Trump's doorstep as demonstrators circled the White House grounds on Saturday, chanting "I can't breathe" and "Black Lives Matter."
Earlier in the day, Trump threatened that if the demonstrators who had gathered the night before in Lafayette Square, across from the White House, had breached the fence, "they would have been greeted with the most vicious dogs, and most ominous weapons, I have ever seen."
On Saturday, some protesters stayed near the president's residence, while others marched through the streets chanting, "No justice and no peace" and "Say his name: George Floyd."
Armored Secret Service, along with District of Columbia police and park police Saturday formed a barricade in front of the protesters as Trump returned to the White House from a trip to Florida.
Although some demonstrators overcame the barriers and entered the park in front of the White House, police wielding shields, batons and pepper spray drove them out.
Protesters caused serious damage to several Secret Service vehicles and threw themselves against officers' riot shields, according to the Washington Post.