World News
Protesters disrupt opening of Missouri Senate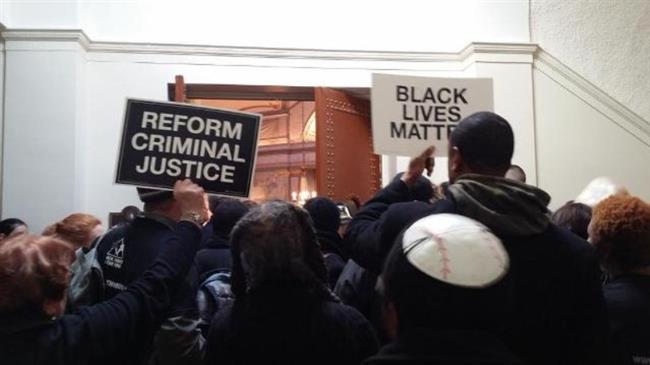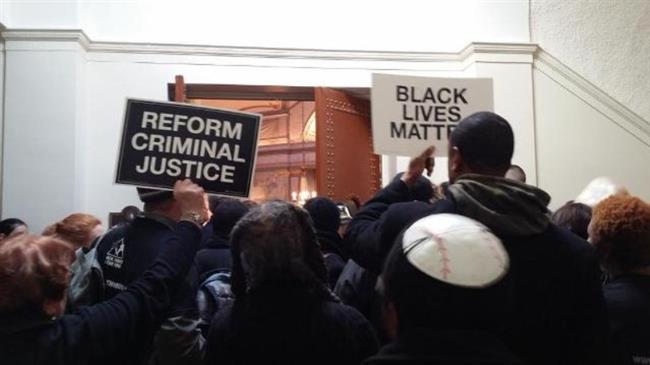 Demonstrators in the US have disrupted the opening ceremonies of the Missouri State Senate to protest against the police killing of African Americans.
On Wednesday, protesters, who were particularly angry about the fatal shooting of unarmed black teenager Michael Brown in the St. Louis suburb of Ferguson in August last year, chanted, "Hands up, don't shoot," "No justice, no peace" and "Black lives matter".
Brown was killed by a white Police officer who was not charged over the killing. Lt. Gov. Peter Kinder, who was presiding over the chamber, was forced to suspended the proceeding.
Police cleared the demonstrators from the visitors' galleries. Officers did not allow them in the chamber when the session resumed 30 minutes later.
Demonstrations across the United States erupted in November 2014 when a St. Louis grand jury declined to indict a former Ferguson policeman who shot dead Brown. The protests intensified next month after a grand jury in New York decided not to indict a white policeman for the chokehold death of Eric Garner, a father of six and grandfather of two.
The chokehold death of Garner was recorded by a cell phone and widely seen. In the video, Garner repeatedly told police officers "I can't breathe! I can't breathe!"
The unnecessary use of heavy-handed tactics by police and the racial profiling of minorities, particularly of African Americans, have become a major concern in recent years.
In an interview with Press TV, American historian Randy Short said that African Americans have endured an "incremental genocide" and "human rights violations" throughout the history of the United Sates.
"The racist policing and Nazi-styled intimidation is designed to ethnically cleanse non-whites from the cities of America," Short said on October 13. "There is neither justice nor human rights for African Americans and Latinos" in the United States.