North America
Protesters dump body bags outside Trump Hotel to condemn his COVID response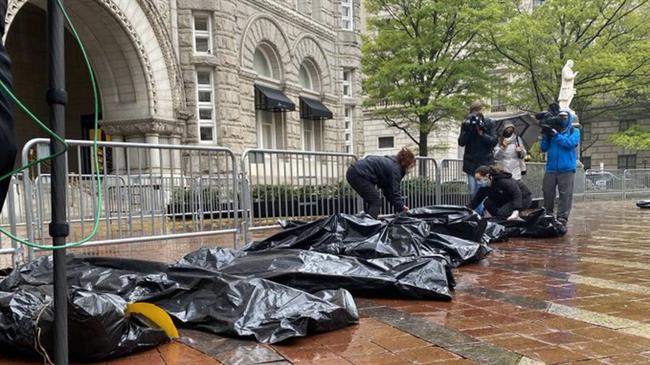 US protesters frustrated with President Donald Trump handling of the coronavirus pandemic have laid mock body bags outside the Trump International Hotel in Washington, DC.
The protest on Thursday, dubbed the "People's Motorcade," featured a procession of vehicles driving past the White House and to the hotel, with an inflatable Trump chicken making an appearance
The protest was organized by the Center for Popular Democracy. The group's senior director of mobilization and advocacy, Jennifer Flynn Walker, said the demonstrators are "angry at Trump."
"When the president lies, people literally die, especially given his most recent advice that people drink disinfectant or inject it or whatever," Walker told US media outlets.
"We really do see that tens of thousands of people dying from COVID is a direct result of his failure as a leader," she added.
Trump has been sharply criticized for his inadequate response to the outbreak. The president initially downplayed concerns about the virus and claimed it would soon disappear.
Late on Thursday, Trump sparked fresh confusion by suggesting scientists should investigate whether patients might be cured form COVID-19 by ingesting disinfectants or being bathed in ultraviolet light.
The comments prompted doctors, health experts and manufacturers of bleach to warn the public not to drink or inject disinfectant. Trump claimed on Friday he was being sarcastic by making those comments.
The US death toll from COVID-19, the highest in the world, surpassed 51,000 on Friday, having doubled in 10 days, according to a Reuters tally, and the number of Americans known to be infected surpassed 900,000.
While the COVID-19 illness is killing thousands of Americans daily, stay-at-home orders and business closures have thrown more than 26 million people out of work, a level of unemployment not seen since the Great Depression of the 1930s.