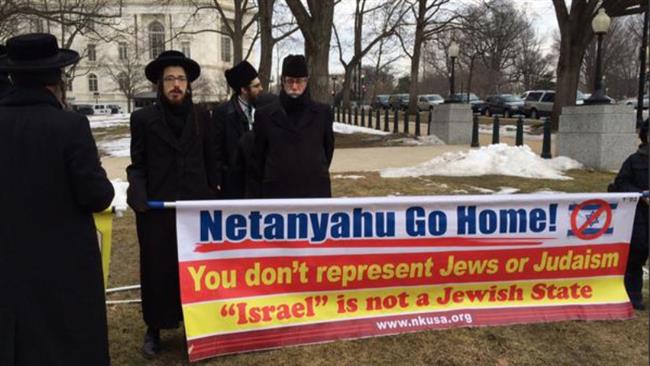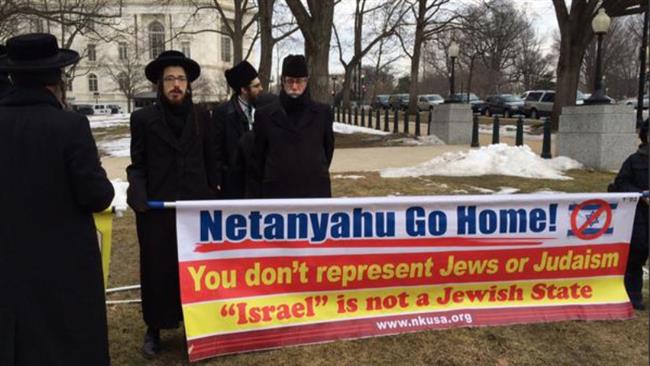 A large number of activists have gathered outside the US Capitol in Washington, DC, to protest against Israeli Prime Minister Benjamin Netanyahu's controversial speech at Congress.
Netanyahu is in Washington and is scheduled to address a joint session of Congress on Tuesday at 11:00 a.m. (local time). He is expected to use the podium to warn the White House about the "threat" of a nuclear deal with Iran.
Protesters chanted slogans against Netanyahu and called on the United States to end military assistance to Israel.
The demonstrators were carrying placards reading, "End all US aid to Israel", "Israeli PM Netanyahu is a War Criminal" and "Don't Bomb, Use Diplomacy".
Israeli officials have said that Netanyahu planned to reveal sensitive details of the accord taking shape in talks between Iran and the P5+1 countries – the United States, Britain, France, China, Russia, and Germany, which has entered a sensitive final stage.
The White House warned Netanyahu against revealing such, after a Republican senator said Netanyahu's speech to Congress has "something we have never heard before."
US House of Representatives Speaker John Boehner invited Netanyahu to speak to Congress. The invitation was extended hours after Obama threatened to veto any sanctions legislation against Iran during his State of the Union address in January.
The Obama administration is both angry at Netanyahu's accepting the Republican invitation to address Congress two weeks before the Israeli election without consulting the White House and excessive Israel Lobby interference in American foreign policy.