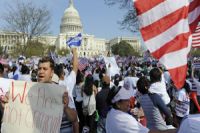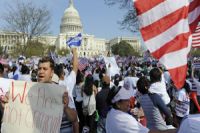 According to Press TV, tens of thousands of immigrants and activists have held nationwide rallies to protest against America's conservative immigration enforcement programs.
The coordinated set of protests were held on Wednesday, aimed at pressing Congress to approve measures that would grant 11 million illegal US immigrants a path toward citizenship.
Demonstrations took place in at least 18 states and Washington DC, where a large crowd gathered on the west lawn of the US Capitol voicing their support for immigration reform.
Experts say that both Democrats and Republicans are shifting their political game to vie for the growing Hispanic vote as well as other minority votes to win future elections.
Ahmed Kergbo, with the New York Immigration Council, said: "Our being here today is for us all to speak with one voice so Congress can know we don't want this to be a cherry-picking game. We want a comprehensive reform for everybody including families."
The issue of immigrant rights also extends to human rights as many families are torn apart based on the status of their residency.
Some US senators hope to finish writing this week a sweeping immigration bill that addresses the issues of border security, foreign workers working in the country and eventual citizenship to millions living illegally in the US.