Europe
Protesters in France block access to three fuel depots: Total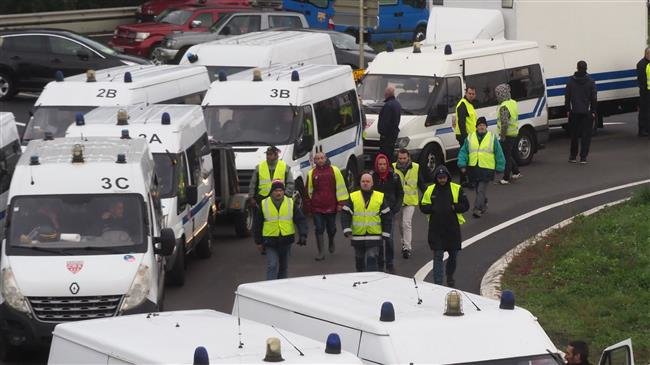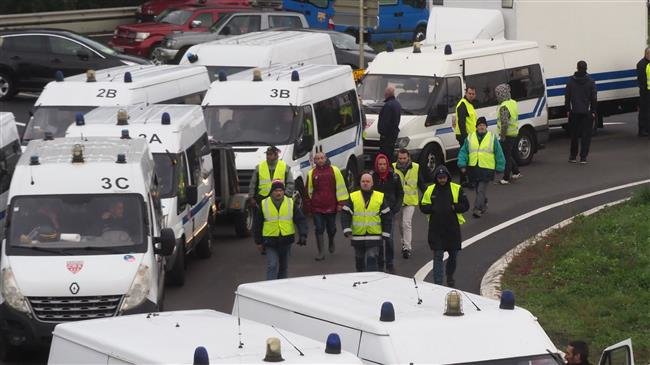 Protesters angry over high fuel prices blocked access to fuel depots and stopped traffic on major roads on Monday after the government refused to back down on fuel taxes following a weekend of demonstrations across France.
More than 400 people were injured during the "yellow vest" protests, which began Saturday with nearly 300,000 participants country-wide.
The mayhem also sparked major logjams and several accidents, including a fatality at one road blockade.
The French protesters on Monday blocked access to three oil depots, including two run by Total, the company said.
Two of the depots, one in Vern, near the northwest city of Rennes, and the other in Fos-sur-Mer in the south, are operated by Total, the firm's spokesman said, adding access to a third depot at La Rochelle, partly-owned by not run by Total, was also blocked.
Early Monday, dozens of barricades were still being manned on motorways and roundabouts, but far fewer than the more than 2,000 sites on Saturday and 150 on Sunday.
Other protesters continued to camp out in supermarket parking lots.
"The movement is not exceptional… and obviously isn't as big as on Saturday," Laurent Nunez, junior interior minister, told CNews, adding that police would continue to intervene to ensure major roads are not blocked.
A handful of skirmishes were reported overnight, including in the northern port city of Calais where an Australian truck driver was detained after trying to force his way through a barricade.
A British motorist was also detained trying to break through a barricade in Calais.
Several other protesters were also injured across the country on Saturday.
The grassroots movement emerged on social media last month over a surge in fuel prices this year, in particular for diesel, which many blame on taxes implemented in recent years as part of France's anti-pollution fight.
It quickly snowballed into a broader protest over stagnant spending power under President Emmanuel Macron.
"I earn 500 euros ($570) a month — how do you expect me to live on that? With what I earn I can only allow myself one meal a day," said Jean-Luc, a 57-year-old protesting in Calais.
Prime Minister Edouard Philippe said Sunday night that the government had heard the anger, but that it would maintain the fuel taxes, which are set to increase again in January.
Last week, the government unveiled a 500-million-euro package of measures to help low-income households, including energy subsidies and higher scrappage bonuses for the purchase of cleaner vehicles.
But even some lawmakers in Macron's Republic on the Move (LREM) party are urging the government to do more to help ease fuel and energy costs as winter approaches.
"We need to maintain environmental taxes, (Philippe) is right to reiterate this, but we also need more measures to assist the French, especially the middle classes and the less well off," LREM lawmaker Matthieu Orphelin told RFI radio on Monday.
(Source: Agencies)