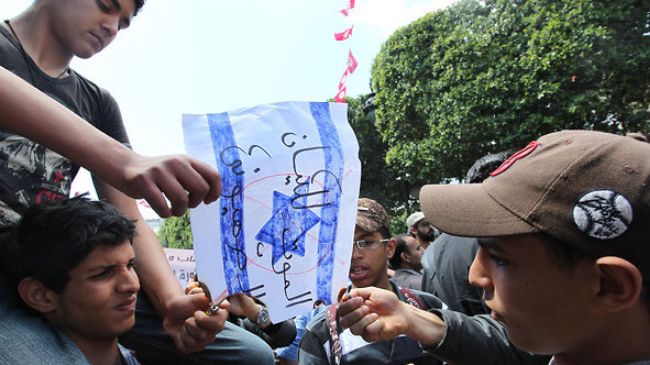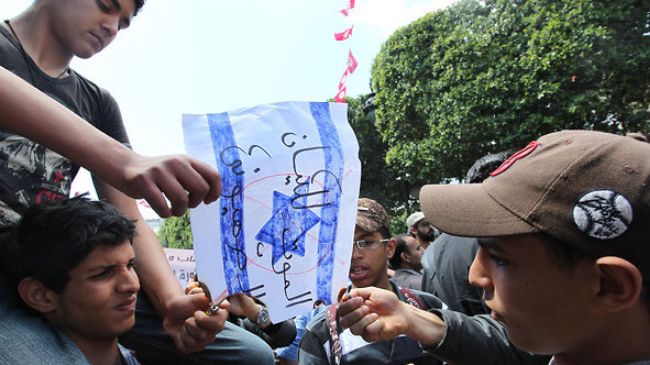 Tunisians have held a demonstration against Israeli crimes in the occupied Palestinian territories, Press TV reports.
Dozens of Tunisian associations including Tunisia's National Front against Zionism organized the demonstration in the capital, Tunis, on Saturday.
Demonstrators demanded criminalization of any ties between Tunis and Tel Aviv.
Protesters also slammed Israeli crimes in Syria and Lebanon, while voicing their support for resistance movements in the region.
Morshid Idriss, one of the demonstrators, said, "Zionists are funding and arming terrorists and the media are targeting the Syrian government. Three years on, Syria is still resisting global hegemony. The Syrian Arab army will win against the fierce imperialist attacks of Zionists and the terrorist Wahhabi and Takfiri allies."
Participants in the demonstration also torched Israeli flags and chanted anti-Zionist slogans, calling for a national protest against Zionism.
The protest in the Tunisian capital was held a few days after a new interim government was approved by the Tunisian parliament on January 29.
Prime Minister-designate Mehdi Jomaa's caretaker government has been tasked with guiding Tunisia to elections for a new parliament and president later this year.
Jomaa is Tunisia's fifth prime minister since the 2011 revolution that toppled former dictator Zine El Abidine Ben Ali.