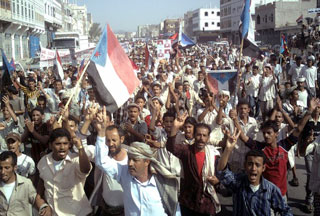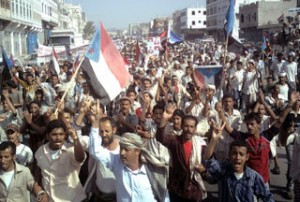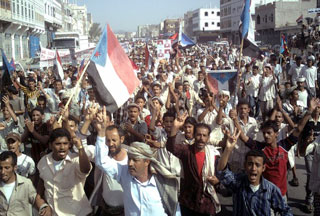 Separatists in southern Yemen have staged massive demonstrations against the central government as the army continues an offensive to rein in Houthi fighters in the north.
More than 10,000 protesters marched in the city of Dhaleh while thousands more turned out in various parts of Lahej and Abyan provinces, AFP quoted witnesses as saying.
Lawmaker Nasser al-Khubbogi said at least 100,000 people were protesting across southern Yemen on Tuesday, calling on visiting Arab League chief Amr Moussa to oversee talks with Sana'a that would allow the south to break away from the north.
The demonstrations were the latest in the series of protests against the government after years-long tensions between the north and south, lingering since a failed southern attempt to split in 1994, flared-up last August.
The south, which was a separate country until it unified with the north in 1990, accuses the northerner-dominated government of discrimination and political and economic marginalization of the south.
Meanwhile, the Yemini government has surged in recent months its military action against Houthi fighters in the north who complain of the government's neglect and discrimination against Shias, who make up 30 percent of Yemen's 22-million-strong population.
The turbulence in the strategically located Yemen has raised concerns among the neighboring states and the West as the Arab world's most impoverished nation is believed to host al-Qaeda militants around its borders and pirates off its coasts.
Yemen, the ancestral homeland of Osama bin Laden, saw an al-Qaeda bombing attack on the US navy destroyer USS Cole in 2000, which left 17 American sailors killed.