Europe
Protesters, police clash in France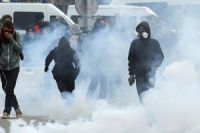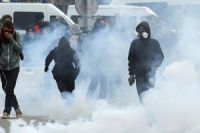 French protesters have clashed with security forces during a rally held against police brutality in the southwestern city of Toulouse.
According to IRIB, clashes broke out on Saturday on the sidelines of a rally held in memory of Remi Fraisse who was killed by French police during a demonstration in October.
According to reports, riot police used tear gas and pepper spray to disperse the crowds of angry protesters.
On November 6, a similar demonstration was held in Paris. Students barricaded the entrance to a number of secondary schools in the French capital which reportedly led to the closure of dozens of educational institutes.
Fraisse, a 21-year-old environmental activist, died under unclear circumstances on October 26 amid clashes between riot police and demonstrators who were rallying against the construction of the Sivens Dam in the commune of Albi, the prefecture of France's southwestern Tarn department.
His death triggered outcry in several French cities, including Paris, Brest, Marseille and Lyon, and finally forced local authorities to suspend the dam project.