Iraq
Middle East
Protesters set fire to offices of Kurdish parties in northern Iraq + Video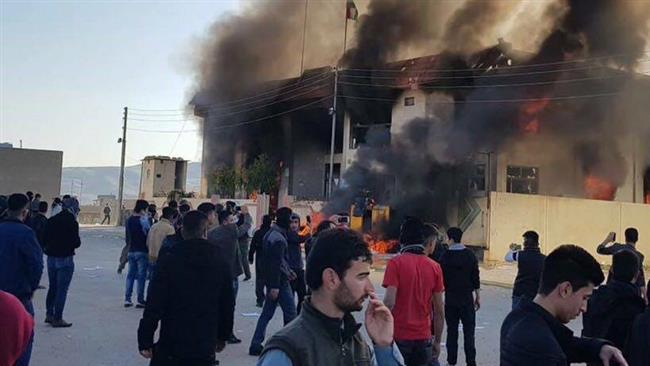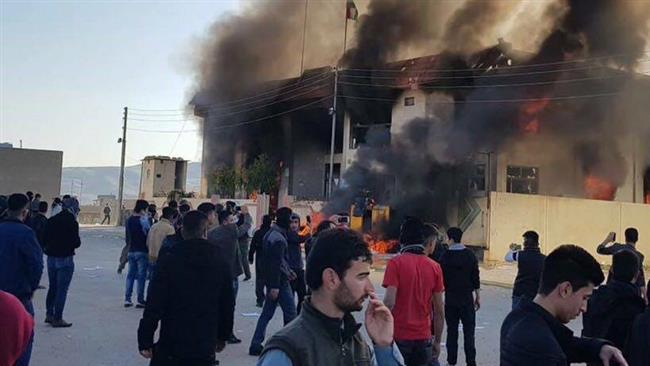 Thousands of protesters demanding the resignation of Iraq's semi-autonomous Kurdistan Regional Government (KRG) have torched the offices of main Kurdish political parties and security services.
The angry protesters on Monday set fire to buildings in Piramagrun area, which is located 30 kilometers northwest of the provincial capital of Sulaymaniyah.
Social media footage showed that the angry demonstrators burnt a building belonging to the ruling Kurdish Democratic Party (KDP). They also set fire to the offices of the Patriotic Union of Kurdistan (PUK), the KDP's coalition partner in government, as well as to those of two other regional parties.
A security services building was also torched by the protesters across the troubled region.
Several people were wounded during the protests, the Iraqi News website reported.
A medical source at the Sulaymaniyah emergency hospital said that six people had arrived suffering from suffocation with tear gas fired by police.
However, Abdel Razak Sharif, a leader of the Goran party, told AFP there were no casualties.
At least 3,000 protesters, angered by years of austerity and unpaid public sector salaries, took part in the Monday protest.
Teachers, hospital workers and other public sector employees demanded their wages from the KRG, with some saying they had not been paid in over three years.
Tensions have soared in Iraqi Kurdistan since an independence referendum vote on September 25 that was opposed by the central government in Baghdad.
Following the vote, the central government in Baghdad imposed certain measures against the KRG.
The Iraqi government conducted a military campaign to retake the areas overrun by the Kurdish militants in the course of the fight with Daesh terrorists while it banned direct flights to the semi-autonomous region and demanded control over border crossings.
On November 6, Iraq's Supreme Federal Court ruled that no region or province can break away from the mainland.
The KRG has recently said that it would respect the order and expressed hope that the decision would set the stage for Baghdad-Erbil dialog.
Regional legislative and presidential elections due on November 1 were postponed due to the turmoil.