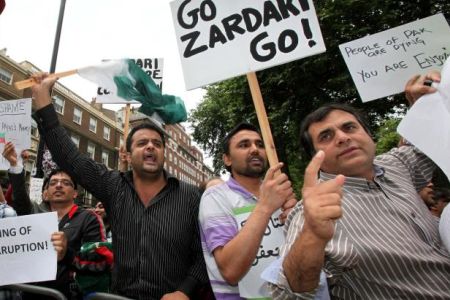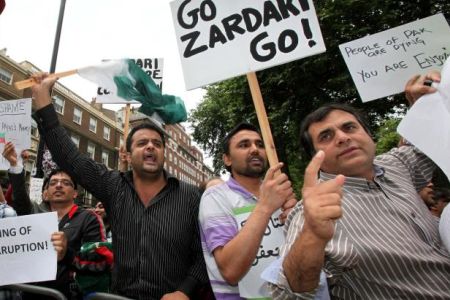 Visiting Pakistani President Asif Ali Zardari has been the target of a shoe-throwing attack during a campaign speech in Birmingham, England.
According to The Telegraph, an elderly man hurled both shoes at the president during a speech to a crowd of 1,000, while hundreds of protesters rallied outside of the hall against his trip.
"Zardari was in the middle of a long campaign speech when a man towards the back of the crowd hurled the shoes at him," an eyewitness told reporters. The man was then hustled out of the hall by security guards.
The incident is reminiscent of an Iraqi journalist throwing his shoes to former US President George W. Bush.
The Sunday incident occurred at the end of Zardari's week-long diplomatic visit to France and Britain.
The visit has drawn criticism from Pakistani nationals living aboard, who slammed the president for leaving his country during the devastating floods which hit Pakistan last week.
Protesters outside the event waved banners that read, "Zardari, part-time president" and "Thousands dying, Zardari holidaying."
Critics say the real reason behind his trip was to attend political rallies in order to raise money from wealthy Pakistanis living abroad for his Pakistan People's Party.
In defense of his visit, Zardari told the Sunday Telegraph, "These meetings are planned months in advance, and my coming abroad has drawn more attention to them than I myself would have been able to draw."
Zardari's son, Bilawal Bhutto Zardari, also defended his father's visit, saying it had helped raise money for flood victims. Bilawal had cancelled plans to attend the rally, and instead stayed in London to raise money for flood victims.