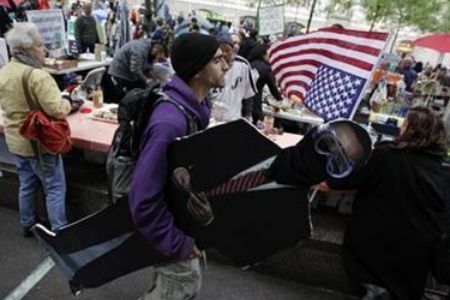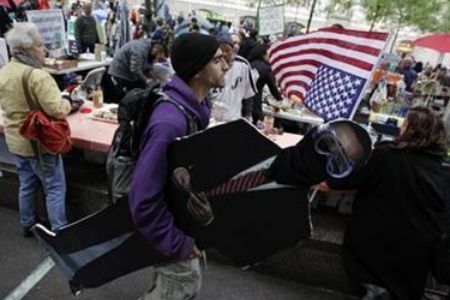 Anti-corporatism protesters in New York plan to close down Wall Street by holding a street carnival to mark their campaign's extension into its third month.
Protesters plan to force the closure of Wall Street, US financial center and home to New York Stock Exchange, on Thursday, by marching from the camp headquarters in Zuccotti Park in Lower Manhattan before fanning out across the city's subway, Reuters reported on Tuesday.
The countrywide movement, which has become known as 'Occupy Wall Street' (OWS), began on September 17, when a small group of people occupied the park in protest at 'corporate greed' and top-level corruption in the country. It has inspired similar campaigns across the world.
The Thursday rallies are also expected to see the demonstrators marching across the Brooklyn Bridge. More than 700 people were arrested during a similar march across the bridge last month after some protesters sat on the pedestrian walkway, refusing to move, while others strayed into car lanes.
The police have been staging a fierce crackdown on the protesters in different US cities.
On October 25, a tear gas canister fired by the police hit 24-year-old Scott Olsen, a former US Marine who had joined protests in Oakland, California, reportedly causing him a skull fracture.