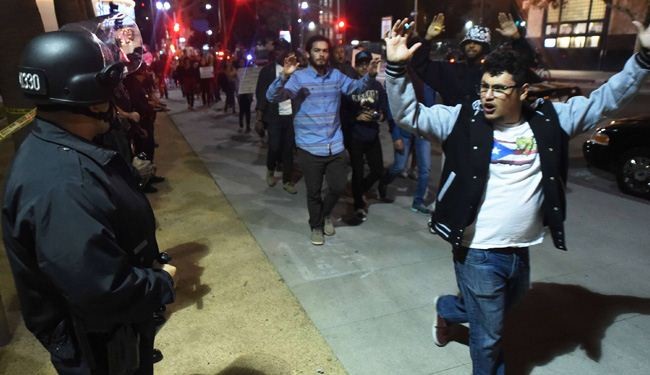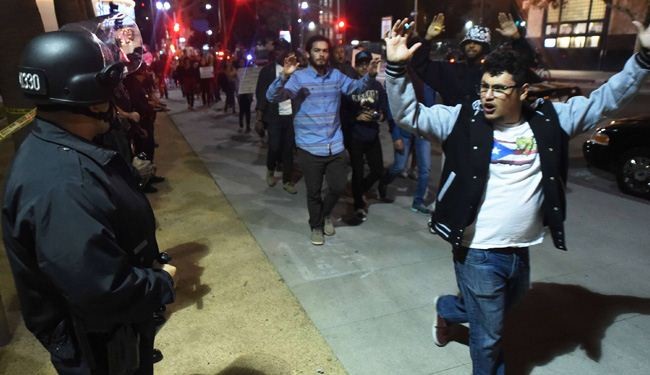 Protestors continued to hold demonstrations across the United States on Wednesday following a grand jury's decision not to indict a white police officer in the killing of an unarmed black teenager in the St. Louis suburb of Ferguson.
In California, a group of protestors blocked multiple intersections in downtown Los Angeles but were forced to march in another direction by a line of police officers.
Earlier on Wednesday, a group of National Guardsmen stood outside the Ferguson Police Department preparing to maintain order.Many residents hoped that the relative calm of the daylight hours would last through the night and into Thursday's Thanksgiving holiday.
Missouri Governor Jay Nixon sent a large contingent of extra National Guardsmen to the town. National Guardsmen are reserve troops that state governors can call up during emergencies.
The governor ordered the initial force of 700 to be increased to 2,200.Police officer Darren Wilson shot and killed 18-year-old Michael Brown in August.
The racially charged case has stoked passions nationwide, triggering debates over the relationship between black communities and law enforcement.
Also in UK, Protesters scuffles in London over grand jury decision in Michael Brown case.
More than 1,000 people marched through London on Wednesday night to condemn the decision not to prosecute a police officer for shooting dead unarmed black teenager Michael Brown in the US city of Ferguson, Missouri.
Protesters tore down fences and clashed with police in Parliament Square, close to the Houses of Parliament.The protesters had earlier demonstrated outside the US Embassy and marched along Oxford Street in the city.