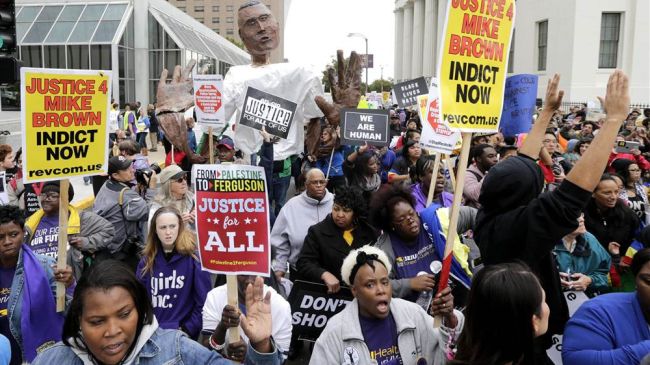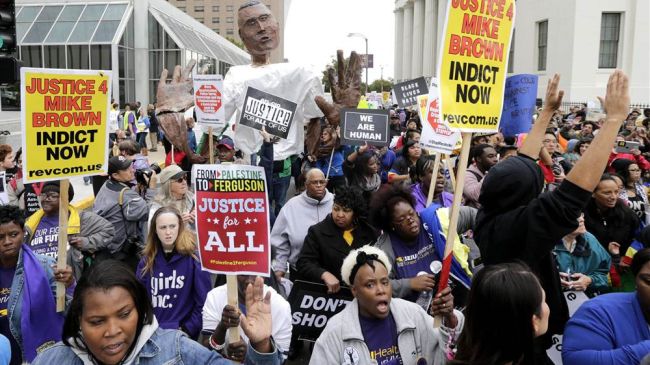 Hundreds of protesters in the US city of St. Louis clashed with police Sunday morning as demonstrations continue for a third day against police brutality and the fatal shooting of an unarmed black teen in the nearby city of Ferguson in August.
A group of about 200 people marched and staged a sit-in at a St. Louis gas station near the site of another police shooting last week that involved another black teen, prompting police to use tear gas and make over a dozen arrests.
Protest leaders said Sunday morning that at least 14 demonstrators were arrested, the Washington Post reported.
Chanting "no justice, no peace" and "the whole damn system is guilty as hell," the protesters were marching for nearly half an hour before staging the sit-in at the gas station.
The protest is part of a four-day event from Friday to Monday over the fatal shooting of 18-year-old Michael Brown by a white police officer on August 9 in the St. Louis suburb of Ferguson.
The protests, dubbed "Ferguson October", began on Friday afternoon with several rallies in the St. Louis area.
On Saturday, thousands of demonstrators from across the United States gathered in St. Louis to protest the shooting death of Brown and police violence against African Americans.
The shooting death of 18-year-old Vonderrit Myers Jr. by an off-duty white policeman on Wednesday has fueled fire to the weekend rallies. The shooting took place just two months after Ferguson police officer Darren Wilson shot Brown, sparking weeks of violent protests.