Europe
Public funeral held for six Italian soldiers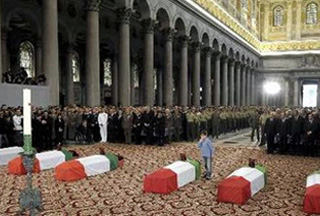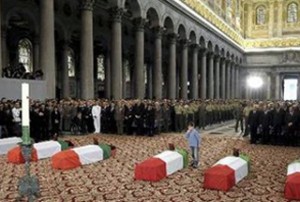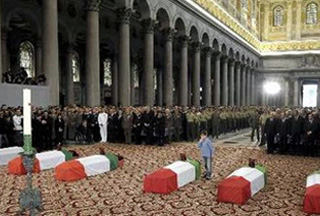 Thousands of people pour to the streets in Rome to attend a state funeral in honor of the six Italian soldiers killed in a bomb attack in Afghanistan last week.
All paratroopers of the Italian 186th Folgore battalion and the crowd applauded as the six coffins, which returned home on Sunday, were carried inside the Basilica of St. Paul's Outside the Walls by fellow soldiers on Monday.
Pope Benedict XVI sent a telegram of condolences that was read during the ceremony, saying he was praying that God would "support those who are engaged daily in building solidarity, reconciliation and peace in the world."
The government called a national day of mourning, with flags at half staff and a minute of silence at public offices.
The killings rekindled a debate over whether Italian soldiers should continue their operations in Afghanistan, prompting a key government ally to call for all troops to be brought home by Christmas.
Italy has 2,800 troops stationed in Afghanistan, and a further 500 were dispatched for the recent Afghan elections. The extra troops are expected to come back over the next few weeks, according to the schedule.
Despite the presence of over 100,000 US-led troops in the war-torn country, this year Afghanistan is witnessing the highest level of violence since the 2001 invasion.