Pakistan
Puppet Pakistan army chief supports Taliban dialogue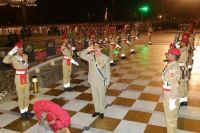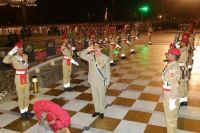 Chief of Pakistan's powerful army, General Raheel Sharif has backed the Taliban talks to end terrorism and restore peace and also asked the militants to accept the constitution.
The government of Prime Minister Nawaz Sharif is involved in peace dialogue with the Taliban however there is no progress in the process.
"The Pakistan army supports every effort for restoration of peace and an end to terrorism. It is our desire that all elements who are active against Pakistan unconditionally accept the constitution and the law and return to the national mainstream," General Raheel told a big gathering in the army's headquarters in Rawalpindi.
The function was arranged to mark the annual Martyrs Day to pay homage to those security forces who have lost lives while fighting armed militants.
Relatives of the slain security forces also attended the largely-attended function and the army chief also laid flowers at the martyrs' monument.
"If the state rebels did not accept the constitution then there should be no doubt the army would deal with them," the Pakistani army chief said according to IRNA.
"The armed forces of Pakistan and the people are able to bring the anti-state elements to task," Gen. Raheel Sharif said.
Thousands of security personnel have been killed in terror attacks and military operations in the tribal regions of Pakistan over the past few years. Pakistani Taliban are fighting against the security forces.
General Raheel stressed the need for unity to overcome internal and external challenges confronting the country, adding the armed forces of Pakistan are capable enough to foil the nefarious designs of the enemy and remain alert round the clock for defense of the motherland.