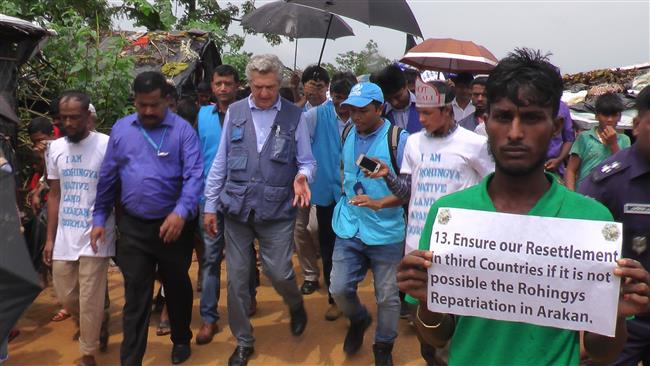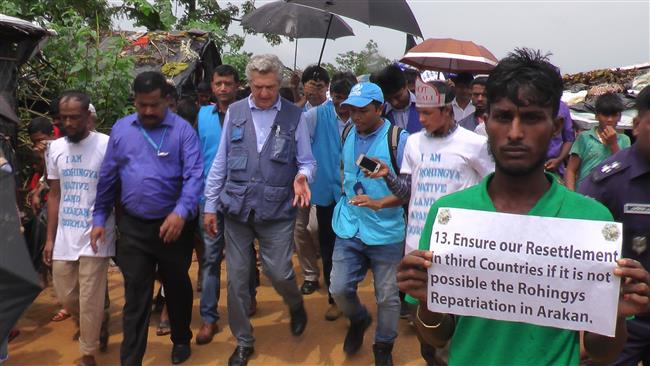 UN High Commissioner for Refugees (UNHCR) Filippo Grandi has expressed concerns about the poor living conditions of Rohingya Muslim refugees, who have fled a "very dire state" in their homeland Myanmar to neighboring Bangladesh.
"The conditions are very minimal, very basic. I would say that this is quite worrying especially for those that have been here for a long time, and for the new arrivals that come from very traumatic situations; this is worse perhaps," Grandi said in Dhaka on Monday.
He made the remarks after visiting two refugee camps in the Bangladeshi city of Cox's Bazar, which borders Myanmar's Rakhine State. Cox's Bazar hosts hundreds of thousands of Rohingya refugees.
Grandi added that Rohingya refugees may stay "for some more time" in squalid Bangladeshi camps as Myanmar officials had said the verification procedure for refugees before any repatriation would be lengthy.
"We offered our technical expertise (to Myanmar). I think it's possible that refugees will stay here in Bangladesh for some more time," he said.
The UNHCR chief further warned that the minority Muslim group is facing a "very dire state in northern Rakhine," Myanmar's state where they are mainly based.
The UNHCR chief stressed that any relocation should occur voluntarily.
"None should be forcefully relocated," Grandi said.
Rakhine has been the scene of communal violence at the hands of Buddhist extremists since 2012. Hundreds of people have been killed and tens of thousands forced from their homes to live in squalid camps in dire conditions in Myanmar, Bangladesh, Thailand, Malaysia and Indonesia.
The government denies full citizenship to the 1.1 million-strong Rohingya population, branding them illegal immigrants from Bangladesh. This as the Rohingya are believed to be a community of ancient lineage in Myanmar.
According to the UN, the Rohingya are one of the most persecuted minorities in the world.
"Struck by sense of despair of refugees in Cox's Bazaar: tangible progress in Myanmar & better opportunities can restore trust in the future," Grandi also said on his twitter account on Monday.
In January, authorities in Bangladesh controversially decided to encamp tens of thousands of Rohingya refugees from Myanmar to the remote island of Thengar Char in the Bay of Bengal, which is prone to monsoonal flooding.
The plan has been met with an international outcry.
Bangladesh hosts more than 400,000 Rohingya Muslims, including about 73,000 who have fled persecution and violence in Myanmar since the army launched a crackdown in the northwestern Rakhine State early October.
There have been numerous accounts by eyewitnesses of summary executions, rapes and arson attacks against Muslims since the crackdown began. The military has blocked access to Rakhine and banned journalists and aid workers from entering the zone.