Palestine
Purchase documents of Migron outpost near Ramallah are forged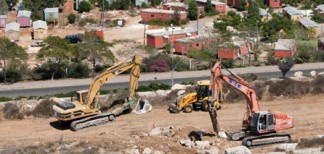 Haaretz newspaper said that recent police investigations unveiled that settlement construction organizations had used forged documents to prove that the land of Migron outpost near Ramallah city was legally purchased from its Palestinian owners.
Consequently, the outpost constructed on the privately-owned Palestinian land is due to be removed next Wednesday, pursuant to a court verdict taken in 2012.
Peace Now group had raised the issue of this illegal outpost in 2006 when it filed a petition with the high court of justice and eventually the court ordered the demolition of the outpost in the summer of 2012.
However, when the authorities informed Migron settlers of their intention to carry out the court ruling, an Israeli company known as Al-Watan, the construction arm of the Zionist settlement movement "Amana," forged purchase documents and submitted them to the Israeli prosecution
Later, the court decided to freeze the demolition of the Jewish outpost until the purchase claim was investigated by the Israeli police.
Al-Watan had already claimed to have purchased lands in Migron outpost in 2004 and presented documents that turned out to be forged
Despite the obvious criminal activities of Al-Watan company and Amana movement, the Israeli police still refrain from making arrests among their members.