China
Putin arrives in China on state visit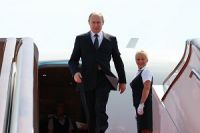 Russian President Vladimir Putin has arrived in China on a two-day state visit to attend the upcoming Asian security summit and solidify bilateral economic relations.
According to RT, Chinese President Xi Jinping and Putin will hold talks on Tuesday.
The signing of a series of important bilateral cooperation agreements, including the gas deal, is also anticipated.
It will be Putin's first China tour since Xi took office and the second meeting between the two presidents this year.