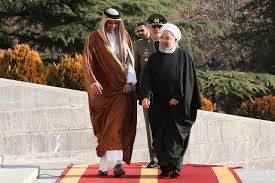 Qatar's Emir Sheikh Tamim bin Hamad Al Thani has arrived in Tehran to hold talks with senior Iranian officials.
Iran's President Hassan Rouhani welcomed the Qatari emir at Tehran's Sa'dabad Cultural Complex on Sunday.
The pair are expected to hold private talks. Later, Iranian and Qatari delegations will engage in negotiations.
State-run Qatar News Agency (QNA) said the talks will focus on "bilateral relations between the two countries and ways of promoting and enhancing them, as well as the latest developments in the region and the regional and international issues of mutual concern."
Last Saturday, Qatari Foreign Minister Sheikh Mohammed bin Abdulrahman Al Thani visited Tehran after the US assassination of the Middle East's most prominent anti-terror commander General Qassem Soleimani.
Qatar is close to the US and hosts Washington's largest military base in the region, but it also enjoys strong ties with Tehran, with whom it shares the world's largest gas field.
President Rouhani told the Qatari FM that Washington would pay a heavy price for its assassination and on Wednesday, Iran pounded two US airbases in Iraq with a volley of ballistic missiles.
On Saturday, NBC News said the terrorist US operation used Israeli intelligence and was run from the US Central Command (CENTCOM) headquarters in Qatar.