International Quds Day
IIT Exclusive News
Iran
Middle East
Palestine
QUDS DAY 2021: Intl. Quds day will be marked with 'online rallies'
Taking place each year on the last Friday of the holy month of Ramadan, International Quds Day draws millions of people around the world to the streets and raises awareness about the Palestinian cause and the decades-long Israeli occupation of the Arab country. However, this year is different. The Iranian authorities have called off the street rallies due to the coronavirus pandemic, but have instead held meetings and conferences ahead of the occasion.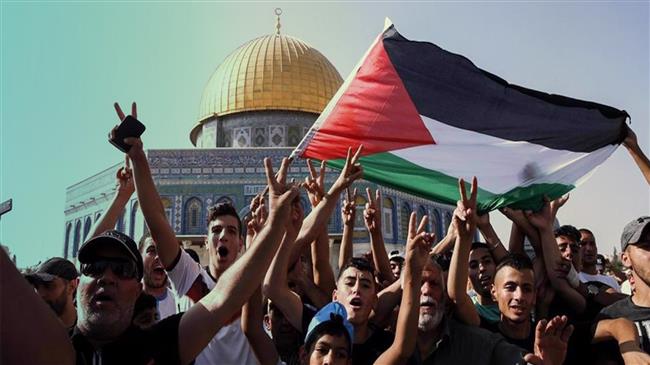 Rights activists here also condemned Sudan, the UAE, and Bahrain for their normalization of ties with Israel, calling it a betrayal to the Muslim community.
The Arab-Israeli normalizations were forged and brokered by former US President Donald Trump, who also endorsed the hugely controversial plan of the so-called deal of the century which was strongly denounced by the Palestinians. However, observers believe Joe Biden could potentially take a relatively different approach.

Palestinian activists say resistance remains the only way for their people against Israel's occupation since they believe that the path of dialog does not work with the occupying regime.
Israel has for seven decades been pressing ahead with the construction of illegal settlements in the occupied Palestinian territories and continues to deny millions of Palestinian refugees the right to return. Therefore, International Quds Day is an annual opportunity to bring the sufferings of Palestinians to light and hopefully to an end.
Activists here say Palestine remains the top priority of the Muslim World, adding that Israel and its Western supporters have spared no effort in derailing that priority.
They called on Muslim countries to set aside differences and reach a common ground concerning Palestine, believing this is the main counterforce against Israel's expansionist agenda.