Syria
Quneitra Map Update: Syrian Army taking over last rebel bastions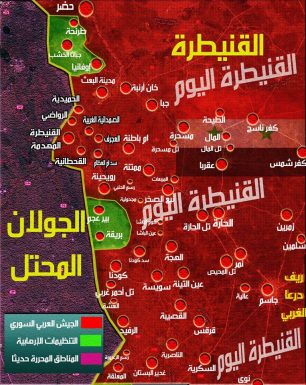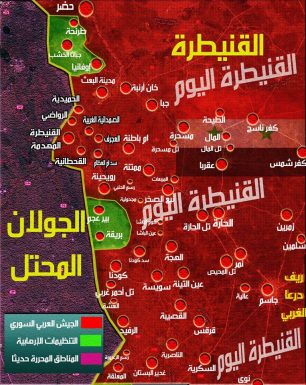 Jihadi groups in Quneitra province continue to hand over their heavy and medium weapons as the Syrian Army prepares to declare the entire southwestern province under its control.
The surrendered militants have succumbed to an evacuation deal following the rapid advance achieved by the government troops across several front-lines.
Nusra militants in Bariqah and Beir Ajam towns have already handed over 2 S1 Gvozdika self-propelled howitzers , armored personnel carrier, 2 technical vehicles and plenty of mortar, tank and artillery shells.
Meanwhile, jihadists in Jabata al-Khashab continue to surrender their weapons ahead mass evacuation.
once the Syrian Army takes over the remaining 5 towns (Taranja, Jabata al-Khashab, Ofaniyah, Beir Ajam and Bariqah), the entire Quneitra province will be under the government control.
Source:AMN