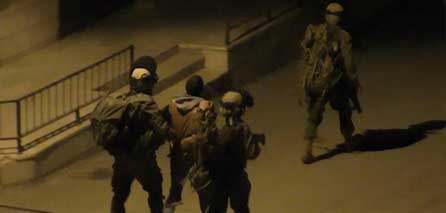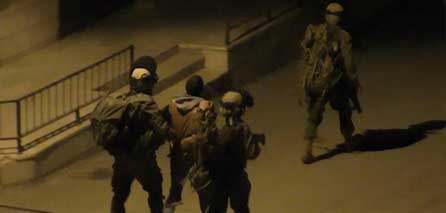 Terrorist israeli occupation forces kidnapped, at dawn on Wednesday, at least 13 Palestinians in raids across the occupied West Bank and Jerusalem.
Our correspondent said that Israeli forces raided Bethlehem and kidnapped Muhannad Hajahja and Ahmad al-Umour, 17 years, in the village of Tuqu, and Hussein Abu Aker in Aida refugee camp.
In the Nablus, Israeli forces raided the town of Huwwara and kidnapped five teenagers, identified as Yazan Tariq, Mahmoud Faris, Yahya Ismail, Yousif Saod, and Mahmoud Saod.
In the Jenin refugee camp, Israeli forces kidnapped Mustafa al-Tubasi, Issam Abu Jabal, and Tawfiq al-Shalabi.
Local sources in the occupied Jerusalem reported that Israeli occupation forces kidnapped two Palestinians, identified as Yousif Abu al-Hawa and Amir Abu Jumaa from al-Tur neighborhood in occupied Jerusalem.
In the same context, Israeli forces raided the house the Palestinian activist Imad Abu Shamsiya, on Tuesday evening, who filmed the video of executing the Palestinian injured youth Abdel Fattah al-Sharif two weeks ago in Tel Rmeida neighborhood in Al Khalil.
Abu Shamsiya has received many death threats from Israeli settlers while Israeli military told him they would not protect him or his family.