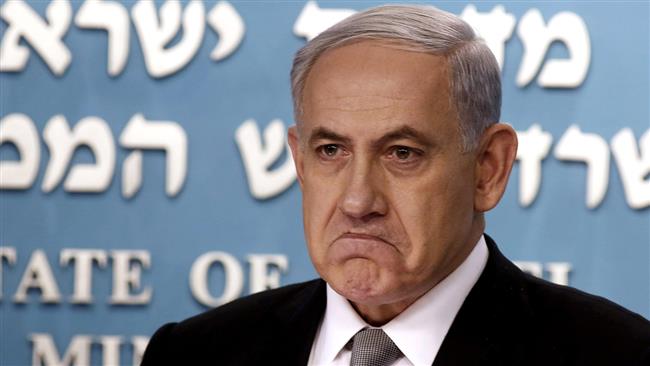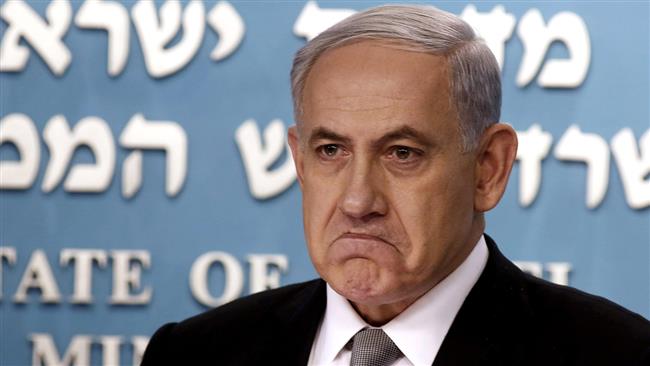 The outcome of marathon talks between Iran and global powers has angered the Israeli regime with warmongers in Tel Aviv calling it a historic mistake and a dangerous step.
Israeli Prime Minister Benjamin Netanyahu on Friday voiced his opposition to the mutual understanding newly reached between Iran and P5+1 states, claiming that the framework agreement seriously endangers the very existence of the regime in Tel Aviv.
A final deal "based on this framework would threaten the survival of Israel," Mark Regev, a spokesman for Netanyahu, quoted the Israeli premier as telling US President Barack Obama in a phone conversation.
During the phone call, Netanyahu rehashed his aggressive rhetoric against Iran's peaceful nuclear activities, claiming that the framework agreement reached in the Swiss city of Lausanne on Thursday "would increase the risks of nuclear proliferation and the risks of a horrific war."
Obama, however, rejected the claims, telling him that the mutual understanding represented a "significant progress towards a lasting, comprehensive solution" on Iran's nuclear program, according to statement by White House on Friday.
Last month, after Netanyahu's speech at the US Congress aimed at derailing the Iran-P5+1 talks, Iranian Foreign Minister Mohammad Javad Zarif said the Israeli premier and his supporters are trying to create "an atmosphere of hysteria" and "fear-mongering."
"The only explanation that you can have here is that some people consider peace and stability as an existential threat," Zarif said on March 6, adding, "Because a deal cannot be threatening to anybody unless you want conflict and tension and mistrust and crises."
Iran and P5+1 group of countries – Russia, China, France, Britain, the US and Germany — along with officials from the European Union finally reached a mutual understanding on Tehran's nuclear program after eight days of marathon talks in Lausanne.
Officials from Iran and P5+1 and the EU pose for a picture after a joint statement was read containing proposed solutions for reaching a final deal on Iran's nuclear program in Lausanne, Switzerland, on April 2, 2015. © AFP
The solutions will serve as a guideline in future the talks to lay the ground for a broader, more comprehensive agreement on Iran's nuclear activities by the end of June, according to the joint statement read out by Zarif and EU foreign policy chief, Federica Mogherini, following the Lausanne talks.
Israel's ire comes while the joint statement was hailed by many countries and international organizations as a major achievement, with many calling it a big victory for proponents of diplomacy across the world.
Earlier in the day, Israeli officials described the deal as a "historic mistake" and dangerous.
In similar comments before the release of the joint statement, Netanyahu said that the potential framework agreement on Iran's nuclear program would ensure what he called a "bad deal," a term he has frequently used over the past months in his desperate attempts to throw a wrench in the nuclear negotiations.
Netanyahu slammed the concessions offered to Iran in Lausanne, saying the international community must insist on a better agreement that would roll back Iran's nuclear activities.
Meanwhile, Yuval Steinitz, the minister of Israel's intelligence affairs, also tried to downgrade the framework agreement by saying that joint statement in Lausanne were "detached from reality."
The reality of Iran's nuclear activity is that it has refused to make "any concession" and keeps threatening Israeli regime, he claimed.
Steinitz said in a written statement that Tel Aviv regime will continue with efforts aimed at preventing what he called a bad final deal between Iran and the world powers.
France repeats warnings on Iran
Meanwhile, France, immediately after the announcement of the joint statement, warned Iran that the sanctions which are supposed to be lifted as a result of the final deal between Iran and P5+1, could be re-imposed if the accord is not implemented.
French President Francois Hollande © AFP
"Sanctions that are lifted can be re-imposed if the deal is not applied," read a statement by the office of the French President Francois Hollande on Thursday, adding that Paris would continue pressing for a final deal which will put maximum limitations on Iran's nuclear work.
The statement also said the job is not over and there still remains some work.
French Foreign Minister Laurent Fabius later tried to tone down the statement, calling the Thursday understanding between Iran and P5+1 as "positive."
"Now, possibly, we are at the start of a new process. We're trying to proceed but we're not yet at the end of the road," said Fabius.
Iran-P5+1 joint statement
The statement released by Iran and its negotiating sides in Lausanne on Thursday calls, among other things, for the removal of UN Security Council resolutions and sanctions against the Islamic Republic.
According to the statement, none of Iran's nuclear facilities will be stopped, shut down or suspended and Iran's nuclear activities in all its nuclear facilities including Natanz, Fordow, Isfahan and Arak will continue.