Palestine
Rabid dog Israeli forces raid West Bank hospital as more Palestinians arrested, kidnapped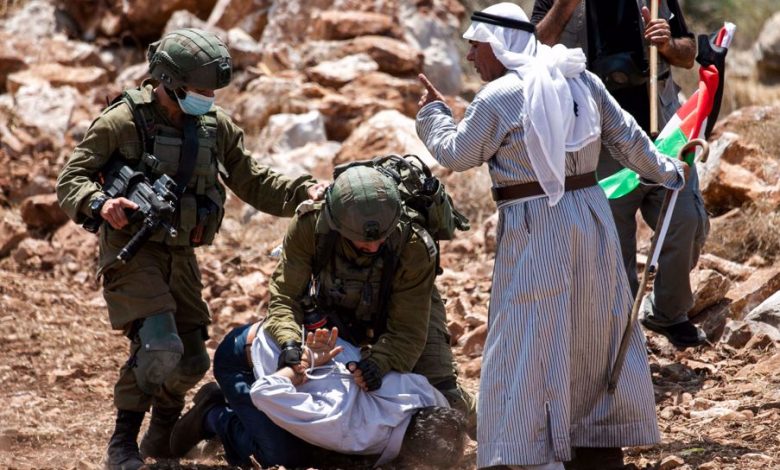 Israeli undercover agents have kidnapped a former Palestinian prisoner and detained several Palestinians in a series of raids across the occupied West Bank and East Jerusalem al-Quds.
Muntaser Sammour, a regional director of the Palestinian Prisoner Society said that Yaser Khzeimiya was forcibly taken away by the Israeli agents in the occupied northern West Bank city of Jenin on Sunday, the Palestinian Information Center reported.
Sammour said that a group of Israeli undercover forces stopped the ex-prisoner while he was driving near Haddad village in Jenin, and abducted him.
Israeli security forces arrested a number of Palestinians in large-scale dawn raids after breaking into their homes across different neighborhoods in the occupied West Bank and East Jerusalem al-Quds.
A Palestinian was also handed an order to appear before the Israel Intelligence Service for interrogation.
Israeli forces also attacked a hospital and fired tear gas during a raid on al-Khalil (Hebron).
Over two dozen Palestinians, including patients and medical staff, suffered breathing difficulties and were evacuated from the hospital by Red Crescent and civil defense crews.
Local residents said violent clashes also occurred between troops and local residents in al-Arroub refugee camp in al-Khalil.
The circumstances surrounding the kidnappings are not yet known, but the Israeli forces carry out such swoops on a nearly daily basis, taking away Palestinians, whom the regime usually accuses of acting against its so-called interests.
The new development comes in the midst of rising tensions between Israelis and Palestinians in the wake of Prime Minister Benjamin Netanyahu's plan to annex parts of the occupied West Bank.
The occupied territories are already reeling from tense situation after US President Donald Trump announced his decision on December 6, 2017 to recognize Jerusalem al-Quds as Israel's 'capital' and relocate the US Embassy from Tel Aviv to the occupied city.
Israel holds more than 7,000 Palestinians in its prisons. Most of the prisoners are being held with no indictment or trial, under a controversial policy known as administrative detention.
Israel has built more than 230 illegal settlements on the occupied Palestinian territory since 1967 that have come to house some 600,000 settlers.