Palestine
Rabid dog zionist settlers march near Aqsa Mosque, call for building Solomon temple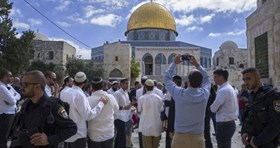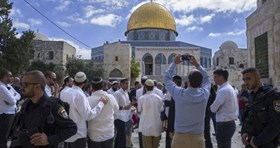 Inhuman zionist settlers on Sunday evening participated in a march near the Aqsa Mosque calling for building the alleged temple of Solomon. Their march took place a few hours after they toured under police protection the Aqsa Mosque's courtyards.
According to the Jerusalem Media Center, the settlers marched in the Old City of Jerusalem and near the Aqsa Mosque while chanting slogans demanding the building of Solomon temple in place of the Aqsa Mosque.
During their march, the Israeli police blocked the road near al-Asbat Gate area and prevented the Palestinians from using it for a while.
For his part, senior official of the Islamic Waqf authority in Jerusalem Firas al-Debs said that the same group of settlers performed some rituals during their desecration of the Aqsa Mosque's courtyards, which provoked Muslim worshipers there into chanting religious slogans in protest at their entry to the Islamic holy shrine.