Palestine
Human Rights
Middle East
Rabid zionist forces fatally shoot 20-year-old Palestinian youth in West Bank clashes
A Palestinian youth has lost his life after being fatally shot by Israeli forces during clashes that ensued funeral of a Palestinian child killed by the regime's forces a day earlier.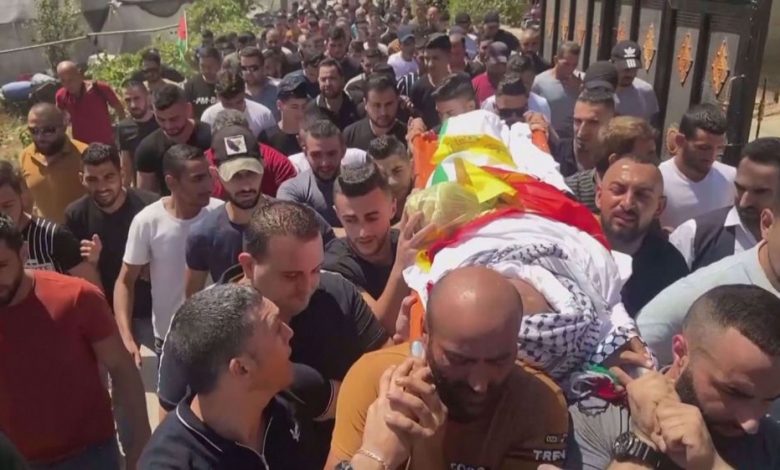 According to the Palestinian Health Ministry, the 20-year-old Shawkat Khaled Awad was shot by Israeli soldiers on Thursday and was critically wounded in Beit Ummar town, north of the southern West Bank city of Hebron.
Palestinian media reported that the young man was shot in the head and abdomen before being admitted to hospital where he succumbed to his injuries hours later.
The shooting came during clashes between residents and Israeli soldiers following the funeral of Mohammad Allamy, 12, who was shot and killed by Israeli soldiers on Wednesday in the same town.
Fierce clashes broke out in Beit Ummar following the funeral of Allamy during which Israeli soldiers opened fire on the stone-throwing Palestinian youths, injuring at least 12 people with live bullets, according to the Red Crescent, including Awad who later died of his wounds.
The Palestinian Health Ministry said Mohammad Mouayyad Allamy was shot in the chest and suffered bleeding in his lungs when Israeli forces opened fire at the car.
It added that the boy was evacuated by medics in critical condition to al-Ahli Hospital, but later died of his injuries.
Mohammad was the second young Palestinian to die of wounds sustained by Israeli fire in days.
On July 24, Israeli forces stormed the town of Beita, south of Nablus, and killed a Palestinian teenager at a protest over illegal settlements in the occupied West Bank.
The 17-year-old, who suffered gunshot wounds, died in hospital on Saturday, a day after the violence in the town of Beita resulted in the injury of 320 Palestinians.
Palestinian residents of Beita have been protesting on a daily basis against the unlawful construction of Givat Eviatar, an Israeli outpost near the village on the top of Mount Sabih, for the past two months.
On Tuesday, Israeli forces killed a 41-year-old Palestinian man, Shadi Omar Lutfi Salim, in Nablus, with local residents saying there were no protests when the fatal shooting took place.