Palestine
Rabig dog Israeli raids destroy home for the disabled, stamps out residential towers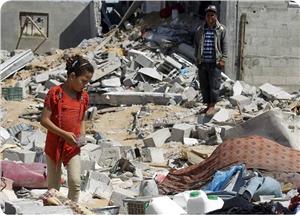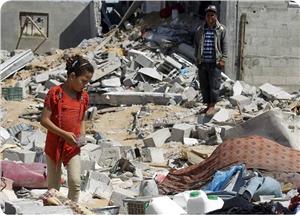 Renewed Israeli air raids on Tuesday morning hit five Palestinian civilian homes, two schools, and an institution for the rehabilitation of the physically disabled Palestinians.
Palestinian sources said a drove of Israeli fighter jets fired a spate of missiles on an association for the physically disabled people, in al-Zaytoun neighborhood.
Israeli drones shelled seven family homes in besieged Gaza and razed two schools, in al-Zaytoun and al-Shujaiya neighborhoods, to the ground.
The nearby University of Gaza, Muhammad Al-Dora hospital, and PLC headquarters sustained remarkable damage in the process.
Meanwhile, a round of rocket-fire was unleashed by al-Qassam Brigades on Tuesday morning, targeting Haifa, Tel Aviv, and Ashkelon with seven rockets.
The attack came as a response to Israel's unwarranted shelling of civilian apartment towers, family homes, and schools in Gaza, culminating most notoriously in the bombing of al-Basha civilian tower and the Italian Complex, along with al-Dhafer 12-story apartment tower, knocked a couple of days ago.
Hundreds of Palestinian families and schoolchildren have gone homeless as a result.
A statement issued by Hamas on Tuesday denounced such Israeli wanton attacks targeting Gaza residential towers, rehab centers, and schools, dubbing them intolerable war crimes and cruel retributions.
Such terror tactics aim at dashing Palestinians' hopes and striking a blow at the steadfastness of the Palestinian resistance, Hamas spokesman Fawzi Barhoum said.
"Such policies will only boost up our will in the face of the occupation and motivate us to restore the rights of our people," he maintained.
Some 2,136 Palestinians, mostly children and women, were killed in the ongoing Israeli offensive, rocking the besieged Gaza enclave since July 7.