Iran
Race for Iran's Parliament: Battle Lines Drawn in Tehran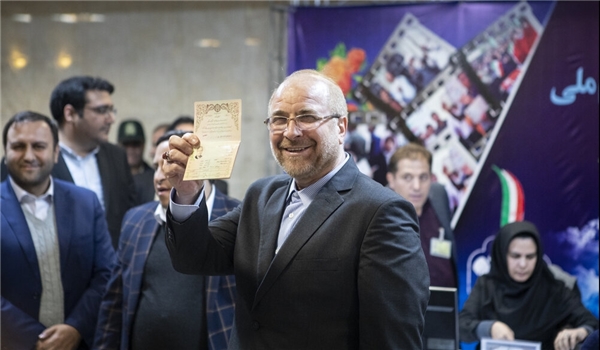 Race for the 30 seats of the Constituency of Tehran has got more heated with different factions offering lists to their supporters, with just 7 days remaining till the polls for the 11th parliamentary elections in Iran.
Principalists offered their 30-candidate list on Friday. Presenting the list, Qolam Ali Haddad Adel, the chairman of the Council of Islamic Revolution Forces Alliance, called on the people of Tehran to vote for the list in the upcoming polls.
Mostafa Aqa-Mirsalim and Former Tehran Mayor Mohammad Baqer Qalibaf, who both ran for the 12th Presidential election in 2017, are top on the list.
On the other side of the race, seven reformist parties have established "coalition for Iran". Faraj Kimjani, the head of the election campaign of the coalition, said in a presser on Saturday that this coalition has been formed to hold a competitive election in line with the country's interests. Threats from foreign countries require us to have a live significant election, he said.
Majid Ansari, head of the Association of Combatant Clerics, and Mostafa Kavakebian, the secretary-general of Mardomsalari party (Democracy Party), are among the main figures of the list.
The campaigns officially started at 00:00 Thursday (20:30 GMT, Wednesday), and the candidates will have one week to win the people's support for their candidacy.
The 11th parliamentary elections and the midterm elections for the Assembly of Experts – a body whose members designate the country's Leader – are to be held simultaneously on February 21.
The candidates will have until Wednesday night to promote themselves, and after that, there will be a 24-hour silence until the voting begins on Friday morning.
The elections, held every four years, are scheduled to take place on February 21. A second round could take place in the second month of the next year on the solar calendar (April 20-May 20, 2020) if some seats remain vacant.
Last year, Iran's parliament objected to a motion to increase the number of the seats, keeping the figure at 290.
A total of 57,918,000 people are eligible to cast their ballots, therefore; there would be one lawmaker at the parliament per each 190,000-strong segment of the Iranian population.
A total of 7,148 candidates, including dozens of Iranians from the religious minorities, are running for the parliament.
In capital Tehran, 1,453 candidates are contesting one of the 30 allocated seats on the legislature.
The lawmakers are elected for a 4-year term, with no limitation for the incumbent or former parliamentarians to run again.