Iran
Raeisi stresses education for all as Iran rings in new school year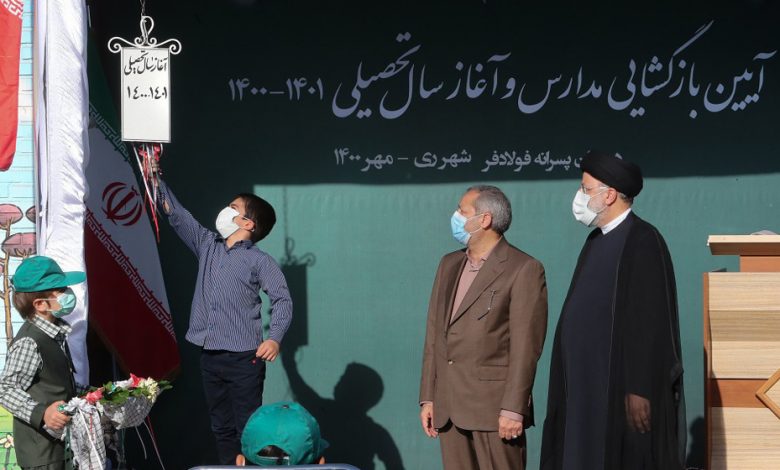 Some 15 million students have started the new school year in Iran, where President Ebrahim Raeisi stressed that no one should be left behind in having access to education because of poverty.
Raeisi attended a ceremony on Saturday at Fooladfar elementary school in Shahr-e-Rey to Tehran's south, where the son of Martyr Mohammad-Hadi Narimani rang the bell marking the beginning of the new school year.
Due to the outbreak of the coronavirus, Iranian students will mostly shift to home-based learning until new directives are issued.
During his speech, Raeisi underscored the primacy of educational equality, saying, "No one must be deprived of education due to poverty."
Marking the 41st anniversary of the 8-year war, which was waged on Iran by former Iraqi dictator Saddam Hussein, the president commemorated those who made great sacrifices during the course of the war.
Raeisi also commemorated Ali Landi, the Iranian teenager who became a national hero after rescuing two women from fire. He passed away on Friday due to severe burns.
"I honor the memory of Ali Landi, the beloved student of Izeh, who with responsibility and self-sacrifice, in addition to saving the lives of two compatriots, showed that he is a graduate of the school of self-sacrifice and martyrdom," Raeisi said.
Leader of the Islamic Revolution Ayatollah Seyyed Ali Khamenei's message of condolence was also conveyed to Landi's family by his office. 
President Raeisi described family and school as two complementary institutions in human flourishing. "The school is complementary to the family and, of course, the teacher is the backbone of the school," he said.
The president also called on the country's other organizations to help the Education Ministry culturally, economically and media-wise, saying all sectors are obliged to help boost quality education.
"Spending resources on education is not a [dispensable] cost, but rather, it is the largest and most productive investment that can guarantee the future of the country," he said.
"The country's progress depends on the improvement of education and development of educational skills, and this is where educational equality shows its real importance," Raeisi added.
Meanwhile, Iran's Television School began operating on Saturday for the country's approximately 15 million students.
All school courses will be broadcast by the national TV through the Television School, while the domestic online learning app, Shad, will also continue to provide students with free educational material.