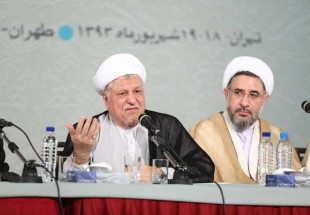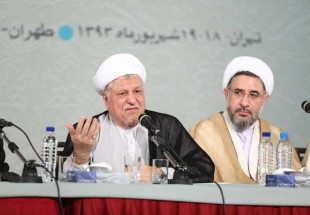 Closing ceremony of the first international Conference of Islamic World Scholars in Defense of Palestine Resistance was held in the presence of Head of Iran's Expediency Council, Akbar Hashemi Rafsanjani and religious clerics worldwide, reported Taqrib News Agency (TNA).
Rafsanjani in his speech slammed the measures perpetrated by Takfiri and extremist groups in Muslim countries, especially Iraq.
The religious cleric also leveled criticism at western Media for naming DAESH as Islamic Government and underscored the extremist groups has nothing to do with the Islam and their takes and ideas run counter to Islamic teachings and instructions.
Elsewhere in his remarks, the political face spotlighted the importance and necessity of unity among Muslims while beckoned to standing dispersion some Muslim countries including Afghanistan, Iraq and Pakistan are plunged into.
Rafsanjani underscored, "disunity lag Muslims behind and what is happening in some Islamic countries like Egypt corroborates this very line."
Rafsanjani beckoned to the standing similarities and commonalities among Muslims and questioned the standing dispersion and disunity among Muslims from different Islamic sects and denominations.
"Our duty is to support Palestine, no matter if they are not Shia," said the cleric, stating Palestinians are downtrodden and oppressed nations and Iran try their utmost to support and back them.
To Rafsanjani there is a triangle on the way of unity and Muslims' progress. He named arrogance and underlined , "many countries in the region are under the spell of arrogant world."
As second factor, the political face beckoned to the negative role of Arrogant's lap dog in the region and mentioned these tyrant governments formed the second angel of this triangle.
For the third factor, Rafsanjani beckoned to existence of extremist groups in the region and mentioned their measures discompose Muslims' solidarity and destroy revolutionary Moves Muslims made in Muslim countries.
The first international Conference of Islamic World Scholars in Defense of Palestine Resistance was held in Iran Capital City of Tehran at the premise of Olampic Hotel.