Middle East
Palestine
Rail project to connect zionist regime with Persian Gulf region 'well' underway
Zionist Foreign Minister Israel Katz says a project aimed at connecting the occupied territories with the Persian Gulf region by rail is well underway, in the latest significant sign of warming ties between a number of countries in the strategic area and the Tel Aviv regime after years of clandestine relations.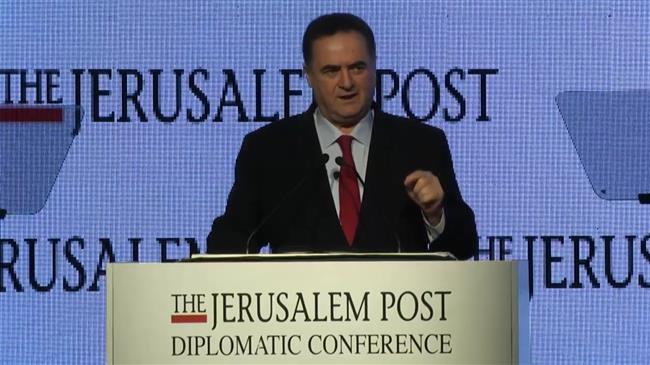 Speaking at the Jerusalem Post Diplomatic Conference on Thursday, Katz called for advancing Israel's relations with Persian Gulf littoral states, saying he was working with Prime Minister Benjamin Netanyahu on "non-belligerency agreements".
He further asserted that the Israeli regime has "no conflict with the (Persian) Gulf states, and we have common interests in the field of security" against what he termed as the Iranian threat "as well as in developing many joint, civilian initiatives."
UAE intel. firm recruiting Israeli cyber agents: ReportsAn Emirati cyber security firms has been reportedly recruiting graduates of the Israeli military's cyber unit, offering them lavish salaries and properties.
"Israel has a lot of capabilities in many areas, including hi-tech, innovation, agriculture and water technology, which can help the (Persian) Gulf states, and the (Persian) Gulf states have many capabilities that can help Israel as well," the top Israeli diplomat claimed.
"Israel is ready to promote cooperation in the region," he said.
UAE to allow Israeli tourists next year amid Israel-Arab normalization bids: ReportThe UAE's most populous city of Dubai is expected to allow tourists holding Israeli passports to attend the Expo 2020.
The so-called "Tracks for Regional Peace" railway project would connect the Persian Gulf countries by rail through Jordan to the Israeli-occupied territories.
It is not known which countries will be included in the initiative, but it is believed that Saudi Arabia, the United Arab Emirates and Oman could soon be linked to the occupied lands.
Back in November 2018, Katz, then Israeli transport minister, attended the International Road Transport Union (IRU) World Congress in the Omani capital city of Muscat, where he put forward his plan for the Middle East to be connected by rail.
Israel's trade with Persian Gulf states is estimated to stand at around $1 billion annually, according to a study published by the Tony Blair Institute for Global Change in August 2018.
Bahrain's King Hamad, Israeli PM hold secret meeting in Hungary: ReportBahraini monarch King Hamad and Israeli Prime Minister Benjamin Netanyahu have reportedly held a secret meeting in Budapest, Hungary.
Jamal al-Suwaidi, founder of the Emirates Center for Strategic Studies and Research, told the British newspaper The Guardian in an interview in March that the Palestinian issue is no longer at the top of the agenda among the Arab Persian Gulf states.
"The Palestinian cause is no longer at the forefront of Arabs' interests, as it used to be for long decades," he said. "It has sharply lost priority in light of the challenges, threats and problems that face countries of the region."
Katz told a ministerial meeting in Jerusalem al-Quds in August that he was working toward "transparent normalization and signed agreements" with a number of Arab Persian Gulf littoral states.
PressTV-Israel working on 'transparent normalization' with ArabsIsraeli Foreign Minister Israel Katz says he is working toward "transparent normalization" of diplomatic ties with Persian Gulf littoral states.
He visited the Emirati capital city of Abu Dhabi on June 30 for a UN environmental conference, where he discussed cooperation against Iran, as well as economic and transport collaboration, Israeli i24NEWS television news network reported.
On October 26 last year, Israeli culture and sports minister Miri Regev had also traveled to the UAE to accompany Israel's judo team at the Abu Dhabi Grand Slam 2018.
Her visit to the UAE marked the first of its kind by an Israeli minister to a Persian Gulf littoral state.
The president of the American Israel Public Affairs Committee (AIPAC) said last December that the then chief of staff of the Israeli military, Gadi Eisenkot, had secretly traveled twice to the UAE a month earlier, and had met with senior officials there.
Mort Fridman further noted that an agreement on the sale of Israeli military hardware to the UAE was struck during the meeting.
Earlier this year, Israel re-launched a "virtual embassy" in a bid to "promote dialogue" with the Persian Gulf Arab states.
Israel re-launches 'virtual embassy' amid thaw in Arab tiesThe Israeli regime has re-launched a 'virtual embassy' amid growing diplomatic relations with the Persian Gulf kingdoms.
Arab countries — except for Jordan and Egypt — have no formal relations with the Israeli regime.