Pakistan
Rains, flashfloods kill three dozen in northwestern Pakistan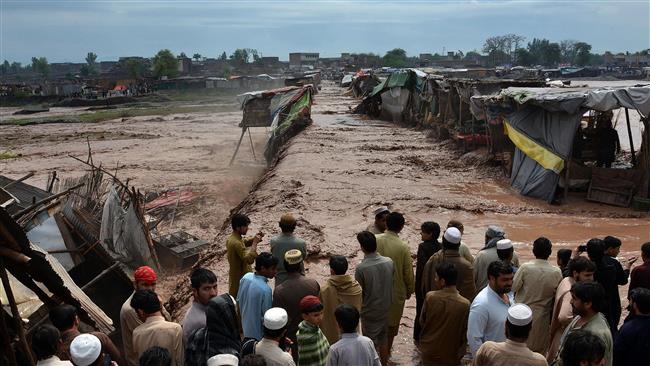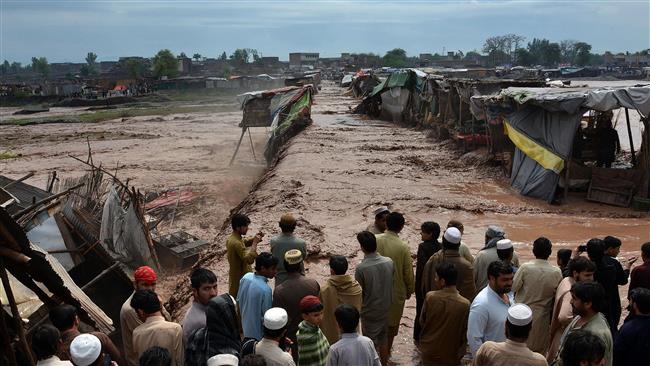 At least three dozen people have lost their lives due to heavy rains accompanied by flash floods in parts of northwestern Pakistan, officials say.
A provincial disaster management agency spokesman said on Sunday that the deaths were reported in Khyber Pakhtunkhwa Province during a torrential downpour that began Saturday night.
The official said collapsed roofs were blamed for most of the fatalities in the mostly mountainous region. Poorly-built homes across rural areas in the region are most vulnerable to collapse during heavy spring rains.
Officials expect the death toll to rise as they are waiting for reports from several remote areas.
The districts of Kohistan and Shangla were among the worst hit areas where dozens of houses were damaged following the heavy rain.
Flooding has also hit huge tracts of farmland and washed away crops across the region.
Pakistani Prime Minister Nawaz Sharif expressed his deep grief over the loss of lives.
The prime minister has directed the National Disaster Management Authority (NDMA) to ensure timely relief help for the victims.
Figures show heavy rains have killed at least 121 people, injured 124 and damaged 852 houses since March 9 across Pakistan. Collapsed roofs and landslides have caused most of the fatalities.
Torrential downpours and flooding killed 81 people and affected about 300,000 Pakistanis across the country during the rainy season last summer.
In 2010, flooding also killed 1,200 people and impacted one-fifth of Pakistan's population of 180 million.
Pakistan is hit by severe weather patterns every year, which have affected millions of people, claimed hundreds of lives and wiped out millions of acres of farmland in recent years.