North America
'Rally for Justice': North Carolina protests Black man's killing by off-duty officer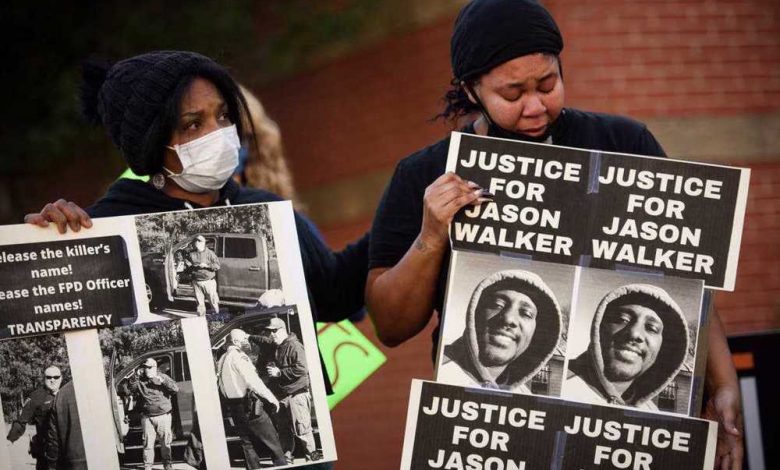 The fatal shooting of an unarmed African-American man by an off-duty white police officer in a North Carolina town last week has led to angry protests in recent days.
The incident, which took place in Fayetteville last Saturday, saw an off-duty police officer, Jeffrey Hash, opening fire at Jason Walker, a 37-year-old Black man.
According to reports, Walker was crossing the street near his parents' house when Hash shot at him, leading to his instant death. It is not known what transpired between them.
On Thursday, a large number of people in Fayetteville gathered and rallied to seek justice for the victim. There have seen a series of demonstrations in Fayetteville since Saturday for the 37-year-old Black man.
Prominent civil rights lawyer, Benjamin Crump, and the family of Walker led a protest on Thursday and demanded justice for the victim as the crowd chanted "Jason Walker matters".
"We got to stop this vicious cycle in America of shoot first and ask questions later when it's Black people. It's unacceptable," Crump said on Thursday night at the Good Hope Missionary Baptist Church in Fayetteville.
"I tell you brothers and sisters in Fayetteville, North Carolina tonight, that it is the right thing to do, that we speak up for the truth of what happened to Jason Walker, that we fight for the truth of what happened to Jason Walker," Crump said, while referring to the cases of George Floyd, Ahmaud Arbery, and Breonna Taylor.
Crump, known for his fight against racial injustice, represented the families Floyd, Arbery, and Taylor, whose killings sparked nationwide protests and outrage over police violence against racial minorities.
Walker's cold-blooded killing is the latest case of white supremacist violence, police impunity, and racial inequality in the United States, which have assumed alarming proportions in recent years.
In a viral video filmed just after the shooting took place, the police officer is seen telling his colleagues that Walker jumped into the middle of the street and that he braked to avoid him.
A North Carolina judge on Thursday ruled that police body camera video from the aftermath of the incident can be released to the public.
According to Hash's account, Walker threw himself on the vehicle, tore off a windshield wiper and used it to hit the windshield, prompting Hash to draw his weapon to protect his family.
This version of the incident, however, has been dismissed by witnesses, who claim that the police officer hit the pedestrian before stopping.
"I saw him brake, completely stop and then keep going," Elizabeth Ricks, an eyewitness, was quoted as saying by ABC station. "I saw him hit Jason… then his body was slammed into the windshield."
Ricks said she then heard shots being fired. "I think he fired the first shot through the windshield and three more times outside the vehicle," she asserted.