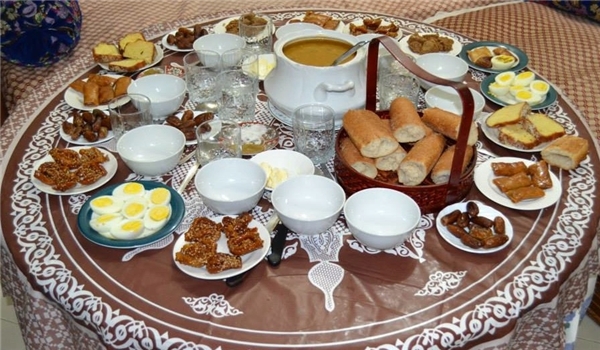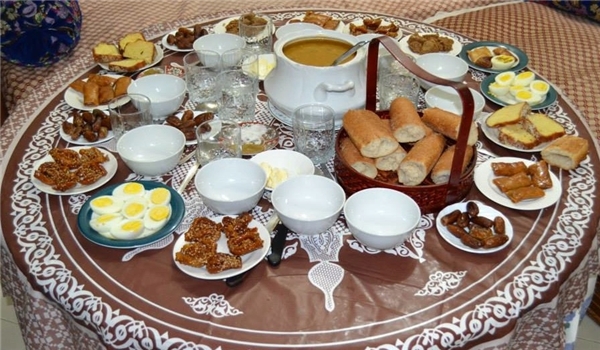 Ramadan is a time of intensive worship and devotion to God, of reading the Quran and reflecting on its teachings, of comprehensive thanksgiving, giving to charity, practicing self-control and kindness, of training oneself to be a better person spiritually and improving relationships with others.
It's quite obvious that one of the perks of Ramadan for many is the special food on the table that really is not served at any other time of the year. From the sunrise banquets at five-star hotels to the extravagant auntie parties, most 21st century Muslims have labeled it a 'tradition' to serve more than five dishes on the table during iftar, with another whole set of appetizers, dinner, and desserts to go along with it. Unfortunately, Ramadan to them seems more like a month of indulgence rather than one of control. Seems like we've really let ourselves go.
After all, Ramadan is a month where Muslims across the globe humble themselves and refrain from those things that have already been decreed 'halal' for them. So when did this trend of serving elaborate meals come about? Who cares when it came about – it was certainly not something our Prophet (PBUH) taught us from his tradition. Sometimes in the process of diligently improving our acts of worship and purifying our souls, we forget that the Prophet practiced moderation in indulging on his appetite — especially during the month of Ramadan.
The consequences of overindulgence also hold negative implications for our health.To evaluate and amend our ways, let's take a look at some of the habits of our dear prophet during the month of Ramadan.
Moderation is key
The Prophet (peace be upon him) said:
"The child of Adam fills no vessel worse than his stomach. Sufficient for the child of Adam are a few morsels to keep his back straight. If he must eat more, then a third should be for his food, a third for his drink, and a third left for air."
As the most common hadith we have heard since we were toddlers, this hadith has more significance now than ever as we are heading towards Ramadan. A practice that should be adopted on a regular basis is not to the slightest being implemented during the month of Ramadan.
The Messenger of Allah (peace be upon him) thus used to prefer breaking the fast with dates and would otherwise break it with water if he did not find any.
The month of Ramadan is known to be one that humbles the soul and spirit and the noble temperament of the Prophet (PBUH) clearly gives us insight into the true essence of fasting and renewal of character. We may read the Quran more frequently during this month but it's the little things that matter as well.
Less is more
As far as most of us can remember, meals at the time of breaking fast are quite lavish in almost every part of the world. Before praying after sunset we have got over 3 starter dishes in front of us and an entire buffet for dinner after prayer. The Prophet (PBUH) on the other hand could have had all he could have ever wanted after only he did his prayers, yet he chose to break his fast with food that was easily available. It was a custom of his to follow a simple diet even during the month of Ramadan and did not order special dishes to be made particularly in the time of Ramadan.
This tradition that we have created for ourselves is clearly not one built after the tradition of our Prophet (PBUH). Our indulgence of appetites and pleasures clearly do show where our true character lies.
Self-control is essential for spirituality
Ramadan is the month of self-control. Traditionally, people used to share food or distribute it among the poor. Sadly, now Ramadan no longer follows old customs; it has become more of a business. People flaunt their wealth by splurging on clothes, jewelry and iftar at expensive restaurants.
Ramadan is not about starving ourselves throughout the day. It's a time where we should treat each other compassionately and a time to bring people together. Due to a lack of preoccupation with the satisfaction of bodily appetites during the daylight hours when fasting, the spirit gains a measure of ascendancy. The soul is freed of the chains placed by carnal desires. Fasting provides a break in the cycle of rigid habits or overindulgence.
Fasting in Ramadan may appear to be a difficult form of worship to those who have not experienced it. But there are many factors that help the faithful to fulfill their commitment. Only God knows the true wisdom behind fasting, but we get a glimpse of it through the Quran, the prophetic tradition, and our personal experiences.
Fasting is first a means of self-control, a way to increase in piety and find freedom from the tyranny of carnal desires.
Secondly, fasting provides an opportunity for reflection, intense worship, and thankfulness. It enables members of the community to empathize with those who suffer from poverty and hunger. In the spiritual dimension, fasting leads to a sincere appreciation of God's bounties and deep gratitude for the same, which is the essence of worship.
Finally, the experience of hunger in fasting reminds the self of its true nature; that is its weaknesses and its dependence on the grace of God. It breaks the illusory lordship of the self and it reminds the carnal self of the purpose for its creation, which is faith, knowledge, worship, and love of God, as well as service to humanity.